On Monday, January 20th, Frosty and I headed to Greenville to hike Little Moose Mountain. Little Moose is one of our favorite winter hikes. It is a short hike with some great viewpoints and often has great small views: the scenery of the trail itself dressed in its winter attire.
We parked at the Moose Mountain Inn and strapped on our snowshoes. It was cold, windy, and overcast at the start. But soon after we started, the sun came out and the sky was the most incredible shade of blue. It was so beautiful. My mood was immediately lifted.
There wasn't as much snow as many of our other hikes here in previous winters. The snow was mostly powdery, but it was wind packed in a few places.
The forest views were breathtaking. There were snow-laden evergreens looking like the perfect Hallmark Christmas movie. And the deciduous trees alternated between snow-laden or ice crusted. The ice crusted branches were glistening in the sun as was the snow ground which looked like glitter had been sprinkled across it.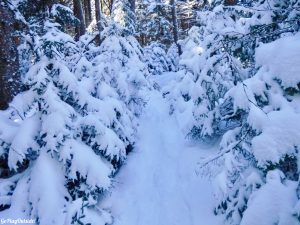 There are several viewpoints in various directions as you travel up the ridge. The wind was assaulting our faces at the viewpoints looking toward Big Moose.  So we only stopped briefly at those. The viewpoints facing in the opposite direction were spectacular. There wasn't any wind and the sun felt incredible.
We passed many coyote tracks, fresh ones. We also saw some rabbit tracks.
In some areas, we had to push through icy branches that had encroached onto the trail. Sometimes, the ice would snap and crack off the branches sounding like a crashing chandelier. Other times, the ice stayed on branches and would squeak like styrofoam.
The trail doesn't go to the summit. The trail reaches a high point and then heads down to Big and Little Moose Ponds. When we reached the trail's high point, the trees were covered by crusty snow. It was such an amazing sight to see these trees silhouetted against the bright blue sky!
Then we got to enjoy it all again, in reverse, as we headed back down the trail!
Scroll down to see many more photos from this trip.