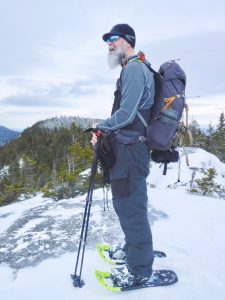 On January 4th, Frosty and I headed out to hike Little Bigelow. We parked where the East Flagstaff Road and the Bog Road split. It was a short walk down the road to the trailhead. 
The skies were overcast, and the weather was very mild for winter, 30°. While hiking, I was sweating. I was down to single layers with nothing to take off . Regulating body heat and preventing sweating are factors to consider in winter hiking. So, I was hot while moving. Then, when a breeze came, I'd get chilled because of the sweat.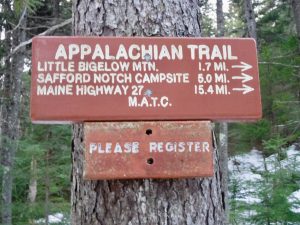 We started out bare booting it. The trail was well packed. After awhile, though we started post holing, so we strapped on our snowshoes and continued. The beginning of the trail was really gentle. Later, there were a few steep parts, but this was a very do-able trail.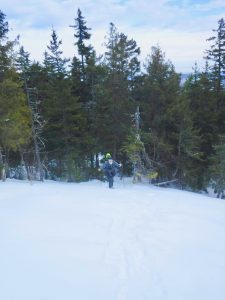 We saw lots of tracks near the trail: partridge, squirrel, and rabbit. We also passed a few places where squirrels had had a pine cone party, like they broke apart cones and threw the pieces as confetti.
As we ascended, there were a few clearings where we stopped to enjoy the view. And just after our three mile mark, we hit the major viewpoint. From here, there is a sweeping vista of Sugarloaf, the Crockers, the Bigelows.
We decided to keep going up the ridge a bit. The major viewpoint marked the end of the packed trail. We broke trail as we continued along the ridge. We stopped at a smaller viewpoint and turned around.
We met up with five other people as we descended, including Amie, who we hiked Saddleback with a few weeks prior.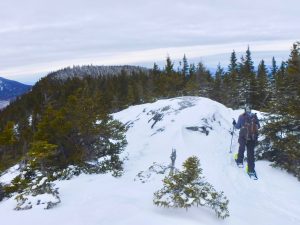 The skies remained overcast the whole day, but the precipitation held off long enough for us to finish hiking. About twenty minutes after we finished our hike as we were driving home, it started sprinkling.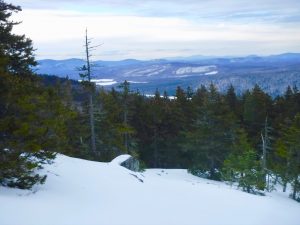 My Garmin watch listed our hike at 7.3 miles with 1,895 feet of elevation gain.