We had a nice hike up a Culver Ridge. The ridge walk was enjoyable. There were some views along the way.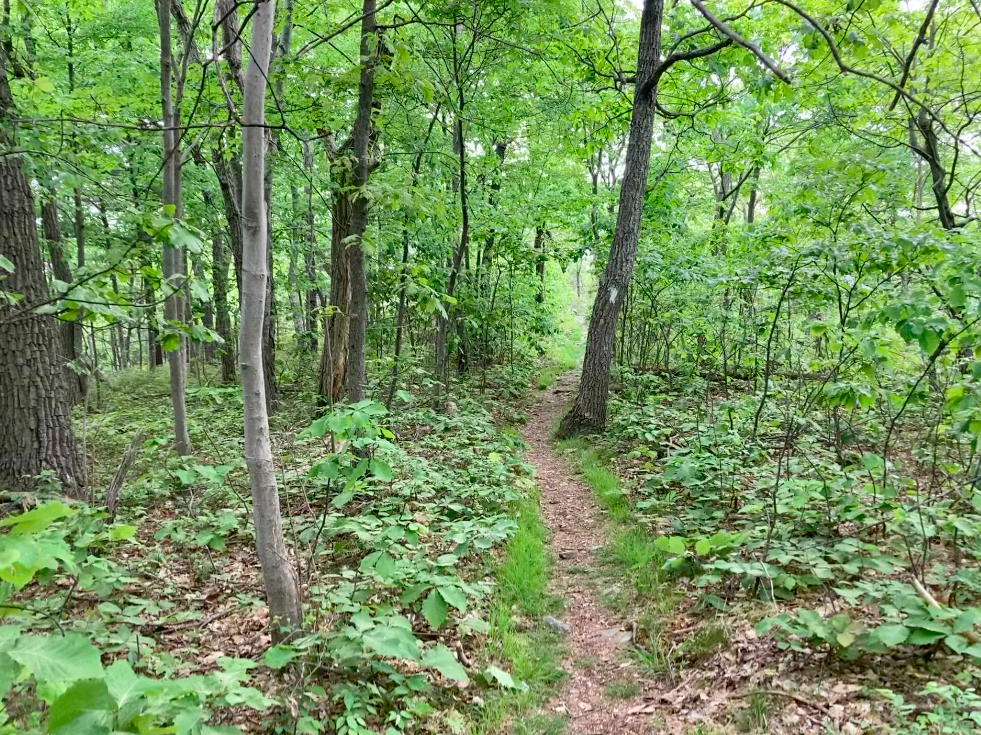 We came to Culver Fire Tower. This tower is active and in use. There was a picnic table nearby, so we stopped for a snack. Someone, I assumed the worker manning the tower, but I'm not sure, left a cooler filled with water bottles.
As we were cameling up on water and chowing down on snacks, Saunter joined us. She shared some stories of her hike since Harper's Ferry. Dave went up in the fire tower. I didn't realize that was a possibility.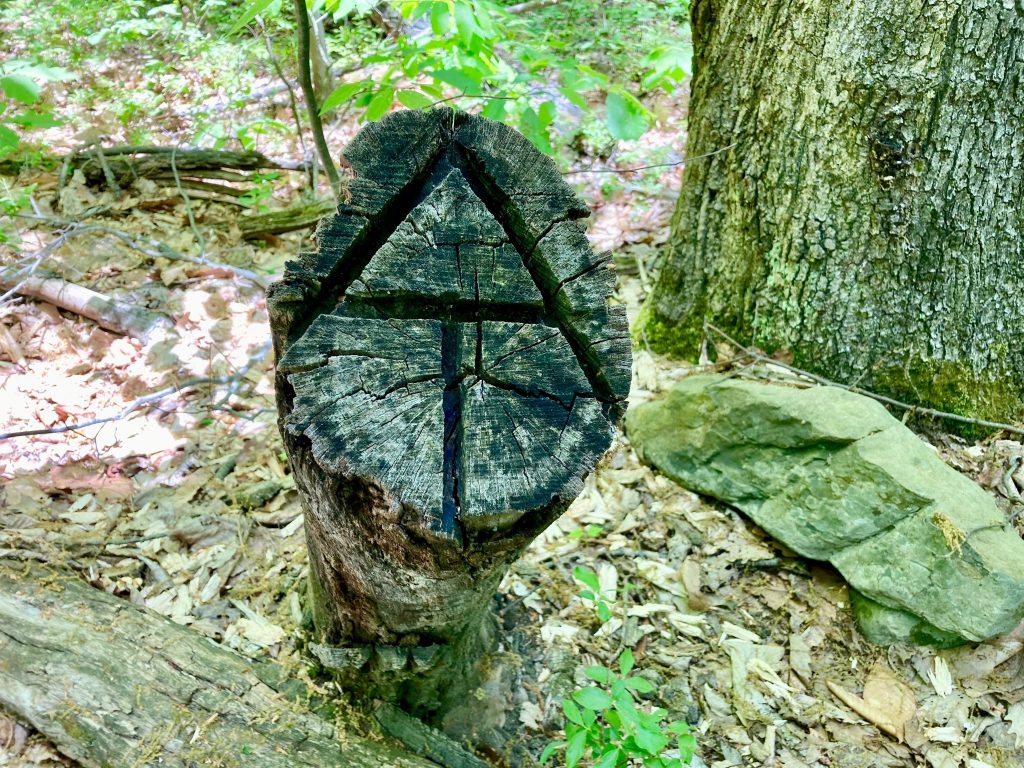 I heard a drumming partridge today. I love that sound. We heard it frequently in the spring at our first house.
We saw a couple snakes today. Another big black snake and a smaller grater snake. I've been told that these black snakes are called rat snakes by some people and black racer snakes by others. I couldn't tell from online information, but the rat snakes are listed as thicker than the racers, so I'd lean toward those.
We stopped at the Gren Anderson Shelter to get water and have some snacks. There were a few teens on a hiking trip that were leaving as we arrived.
We went over Sunrise Mountain. The Guthooks app described it as one of the highest peaks in New Jersey. The elevation is listed as 1645 feet.
On the summit of Sunrise is a stone pavilion. It seemed a bit out of place. I came out of the trees and was met with the surprising sight of the pavilion. It's well built and large. I think the size is what threw me off. It looks like it was built for something more than a viewing platform, like a wedding venue or something.
Despite the graffiti, the structure is in good condition and was a welcome places to take a break. We were sheltered from the sun, had a bench to sit on, and a view to. enjoy.
We stopped again at the Mashipacong Shelter. We needed water and there is often a water cache in the bear box here. We were in luck, jugs of water were indeed in the box.
I met a couple, Praise Team, at the water cache. We talked for awhile. They were flip floppers who started in Roanoke, Virginia. They live in West Virginia now, but are from Colorado. They stayed at the Gren Anderson shelter last night.  They got their name Praise Team for their positive outlook and religious faith.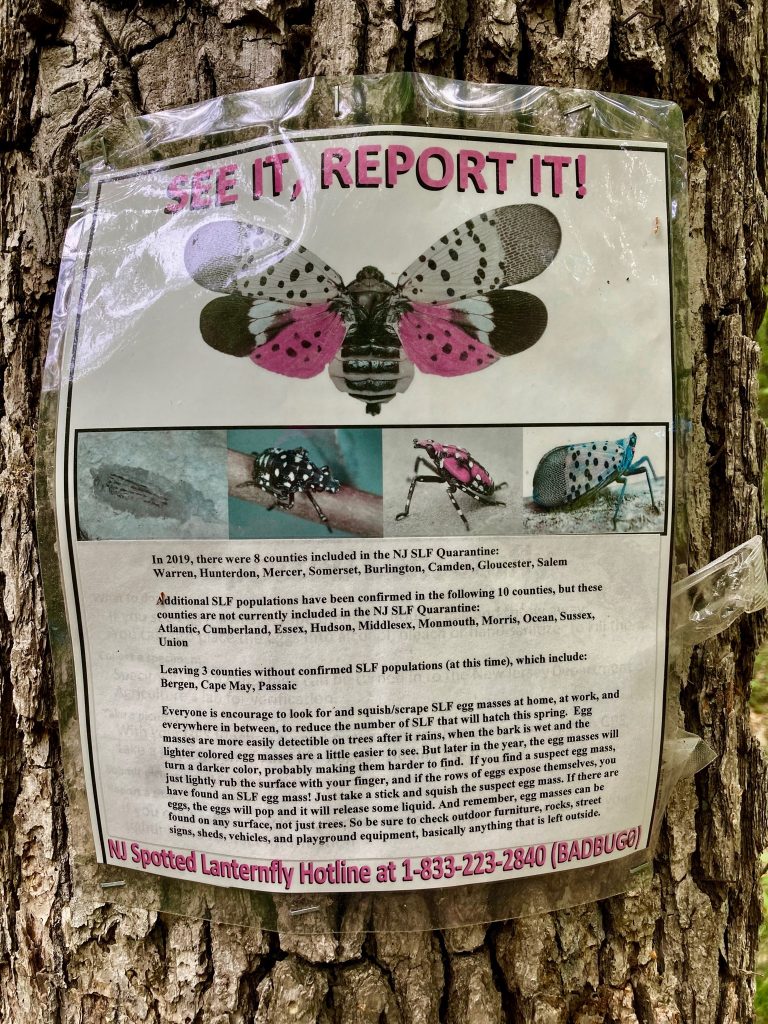 I checked out the privy and was amused that the inside was painted pink. I love the wood shavings and hand sanitizer in the New Jersey privies that I've visited.
We had a snack at the shelter and met a young man on his first backpacking trip. He had a long conversation with us and picked Frosty's brain on gear, how much water to carry, and other hiking subjects. He was out for a week and doing low miles. His end point was the Mohican Center.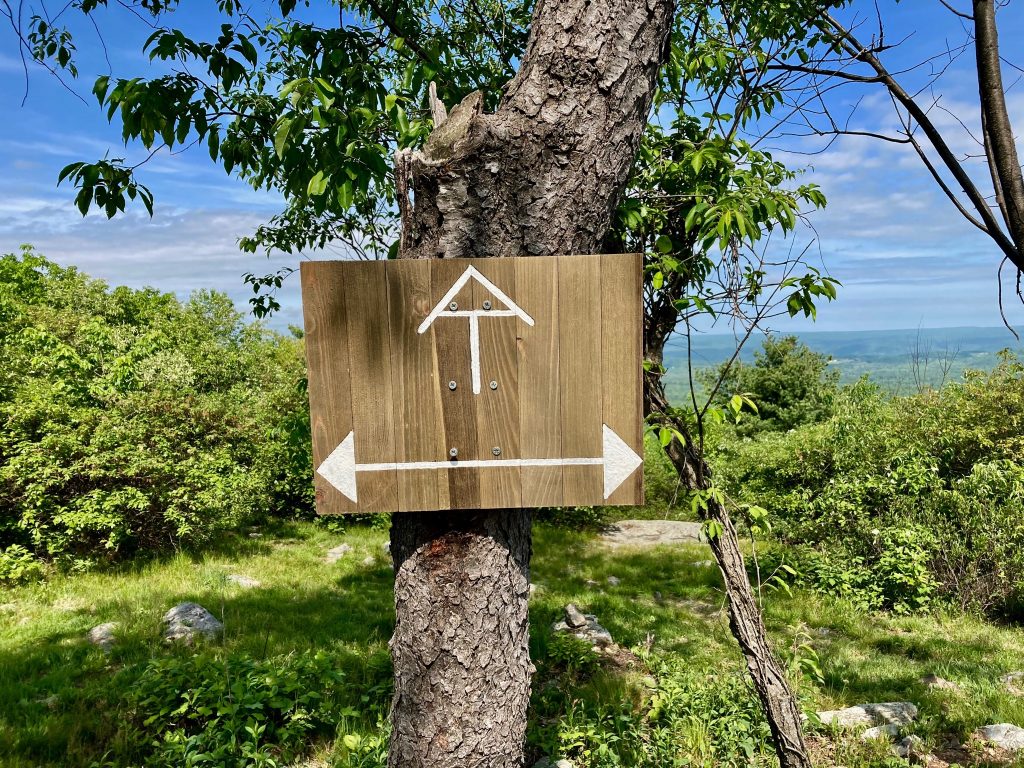 We saw two more large school groups today. One of the students said that they were out for five days.
We spent the night at the Rutherford Shelter. We are in a little bubble of section hikers and flip floppers.
We set up our tent thinking the shelter might end up crowded, but no-one stayed in the shelter. There was lots of space for tents.
We met Dave, a young US Marshall, out on a section hike. We also met Olive Oyl, a flip flopper. Dave and Olive Oyl had been tenting at the Brink Shelter last night, but we didn't meet them.
Copper, Saunter, and Little Bug, all of whom we met last night at the Brink Shelter, were also here. Praise Team spent the night here too.
The shelter had an ironing board set up inside. This amused me. There were also baby birds nesting on a beam on the eave of the shelter. Mom would fly in and out periodically.
Little Bug saw a bear while peeing in the woods. I was hoping to spot it, but, alas it was not to be.
We all gathered at the picnic table for supper. Frosty and I had mac and cheese. Yum!! Many stories were exchanged. Dave had the most exciting ones.
A very close, and thus very loud, whippoorwill woke us up very early. And it just kept going! Interestingly, when Frosty stayed here in 2018, the same thing happened.
We hiked 15.5 trail miles today.