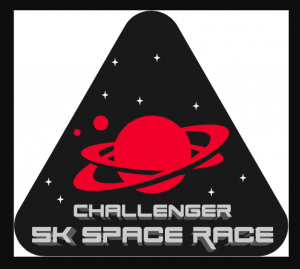 On Saturday, March 31st, I ran in the second annual Space Race. The race benefits The Challenger Learning Center(CLC) of Maine in Bangor. The race starts and ends at the CLC. The course is an out and back loop that participants run twice.
This race was small, only 37 runners. Unfortunately, the Space Race was the same weekend as the annual Flattop 5K. Last year, these races were on different weekends, so I did both. I had planned to run both races again, but the Space Race changed weekends. It was a tough choice. 219 racers participated in the Flattop this year.
Racers got a drawstring backpack swag bag with promotional items from both the CLC and one of the sponsors, Bangor Federal Credit Union. The first 30 racers, so nearly everyone, got a cotton race t-shirt.
There was a DJ, from Big K's Entertainment Service, playing music to get the crowd going in the CLC parking lot. The music was fun. The type of pump-you-up party music that everyone knows from the 70's on up to current pop tunes, from Funky Town to Uptown Funk.
There were some great volunteers who helped mark the course and hand out water. The volunteers were from the University of Maine's Society of Women Engineers and the Brewer High School  JROTC.
The course starts out almost immediately with a hill that organizers dubbed "heartbreak hill." Ugh! I was more in shape when I ran the Space Race last year. Boy, could I feel it, especially, on that hill! Last year this race was my first race ever. As I was running, I thought it would be my last also.
The day was a bit cold, in the mid-thirties, and sunny with a chilling wind. Once I started moving and –going up that hill –I warmed right up. The course  had virtually no vehicle traffic. If you are new to road racing and traffic worries you, this is the race for you.
I was able to better my time from last year by almost a minute. Since I hadn't run as much in preparation for the race, I think it was my experience that helped me do better.
The race had finisher medallions made on the CLC's 3D printer. The top runners got special prizes, but there were a bunch of random drawings. Nearly every runner won a prize. I won a bottle of Sail to the Moon (get it?) shower gel from Mary Kay.
There were drinks and trail mix after the race. The CLC had an open house during and after the race. Kids could also enjoy the LEGO build station while their parents ran.
Gear:
Magoo: Smartwool socks, Asics Gel Women's Gel Contend 3, Danskins Now leggings, Danskins Now short sleeve tech shirt with mesh panels, earband, Apana running mittens, windproof and reflective vest, Arsuxeo Cycling Sleeves, my favorite Scunci visor