We ate breakfast on a rock behind the shelter enjoying the view. Then we started on the trail. We hiked through lots of beautiful, blooming rhododendrons to start our day. There was also more blooming flame azaleas and mountain laurel.
We passed the hiker we saw on trail yesterday, Pink Panther. She stated at Springer in April and was thru hiking. Pink Panther was posting snippets of her hike on her YouTube channel, Sing a Song and Make the Chili.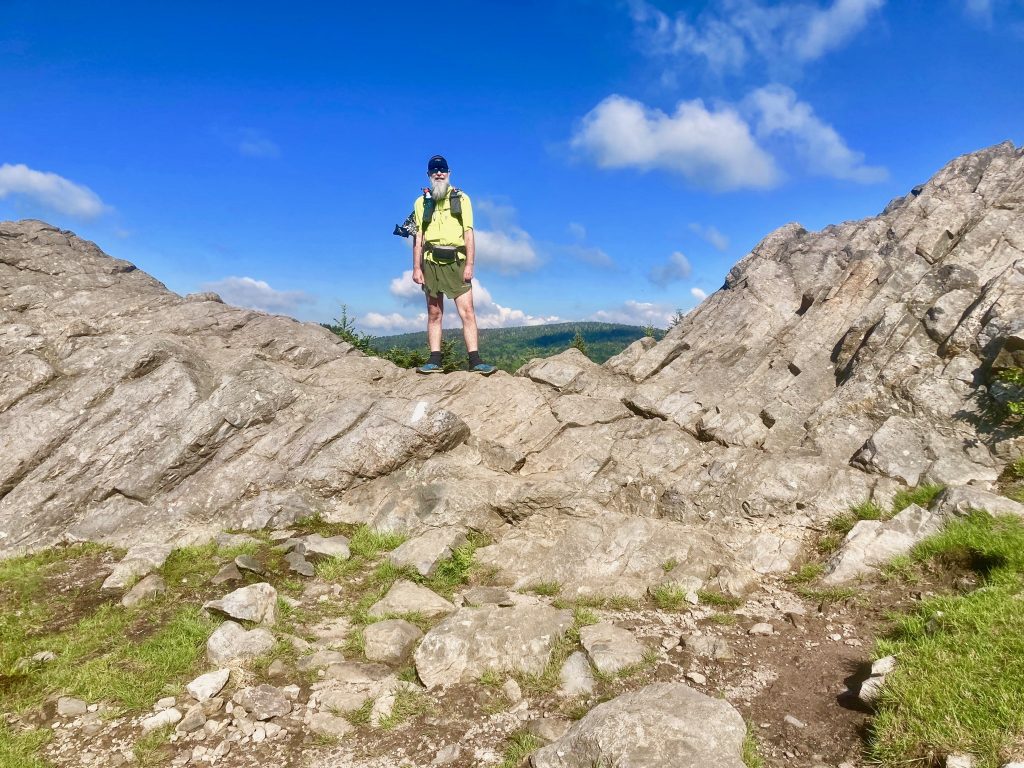 As we hiked we passed many cool rocky outcroppings. I had read on the Guthooks app that we would pass through a tight rock passage called Fatman Squeeze. I thought I'd found it. A social trail spilt from the main trail and led between some rocks. I headed in, but the trail dead-ended at some brush. I pushed through the brush to get back on the trail. Frosty nicknamed this passage "Lostman Squeeze."
Soon we saw ponies!!!! I had been looking forward to this section. Frosty and I took a cross country tenting road trip the summer before we got married. Grayson Highlands was one of the many places that we visited. I had wanted to see the ponies again.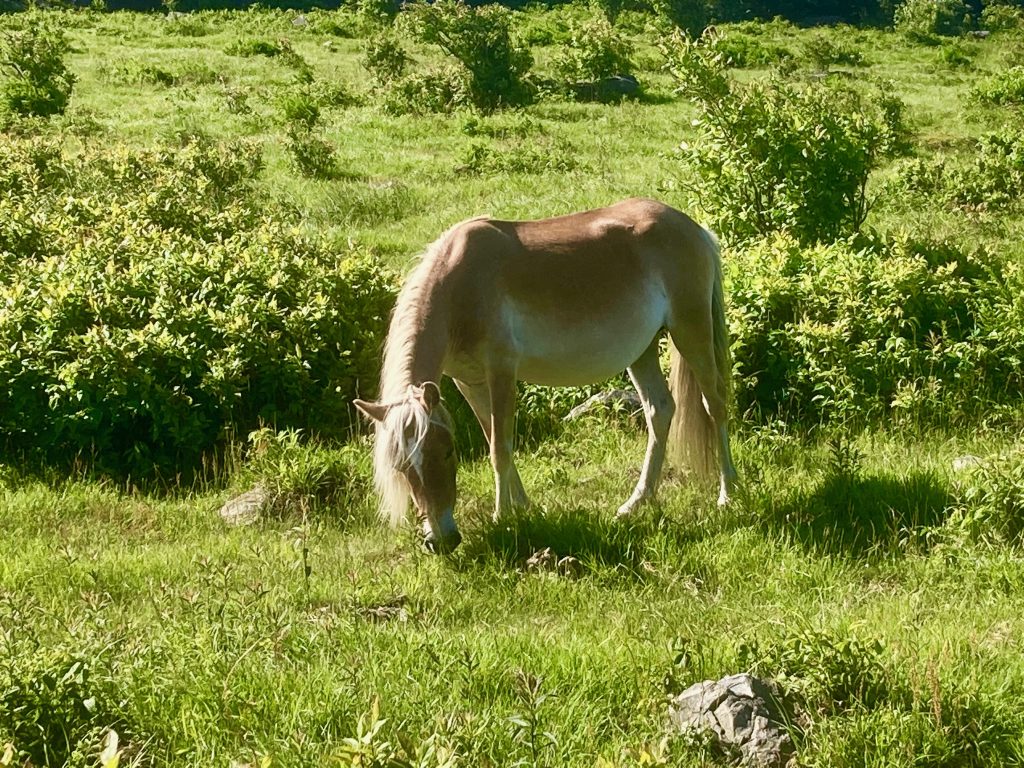 We weren't in Grayson Highlands yet, but ponies roam all over this area. Many people saw one at the shelter area last night, but we didn't. The ponies here are feral. In 1974 the ponies were brought into Grayson Highlands as a way to keep the highlands of this area bald. Having the ponies grazing here prevents the reforestation of the area and keeps the views.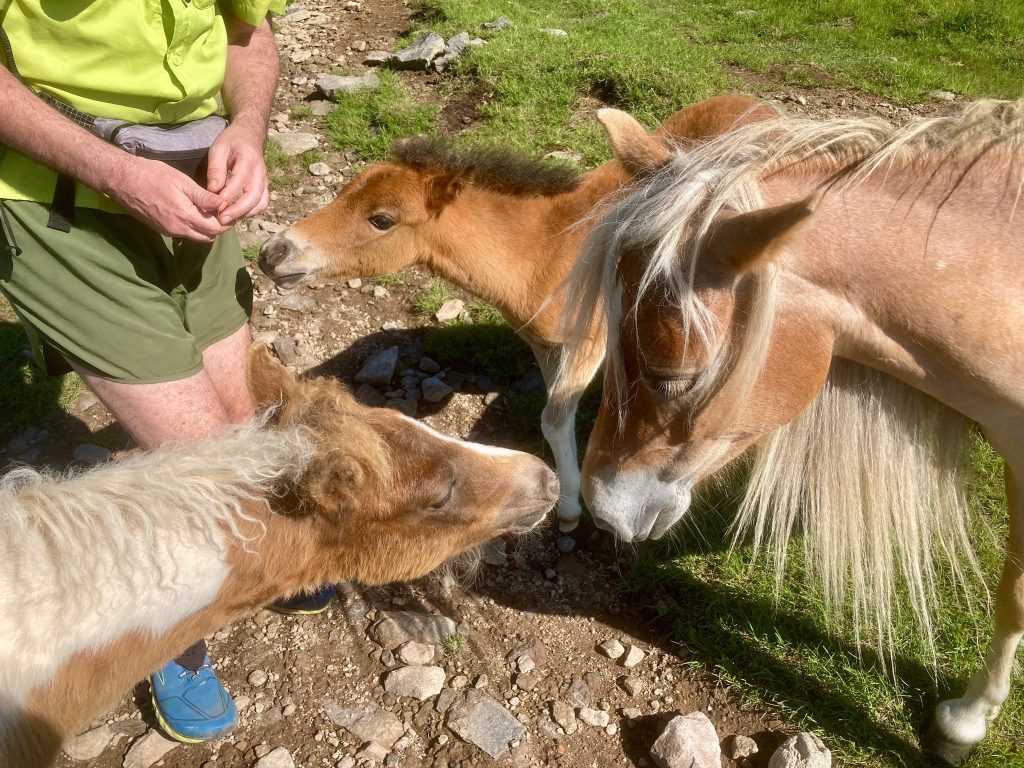 The ponies swarmed us. We petted them and admired them. This was so cool. I would love to camp here for a weekend sometime. Then pitch a tent and just watch the ponies while relaxing.  The ponies licked me all over and tried to chew my gear. They were probably squealing with delight inside thinking that they'd hit the salt jackpot, since I sweat a lot!
One of the ponies was a baby. It was smaller and so cute! While we were hanging out watching the ponies, a couple other hikers came through including Pink Panther.
Eventually, I pulled myself away from the ponies and continued on trail. Soon we were at the actual Fatman Squeeze. Pink Panther was behind us. I waved to her as I went through Fatman Squeeze for her video.
We entered Grayson Highlands State Park. The trail passed more blooming bushes. We stopped at Wise Shelter for a snack and water break. This is only place on the AT in Grayson Highlands that backpackers can camp. The AT is only in the park for 2.8 miles.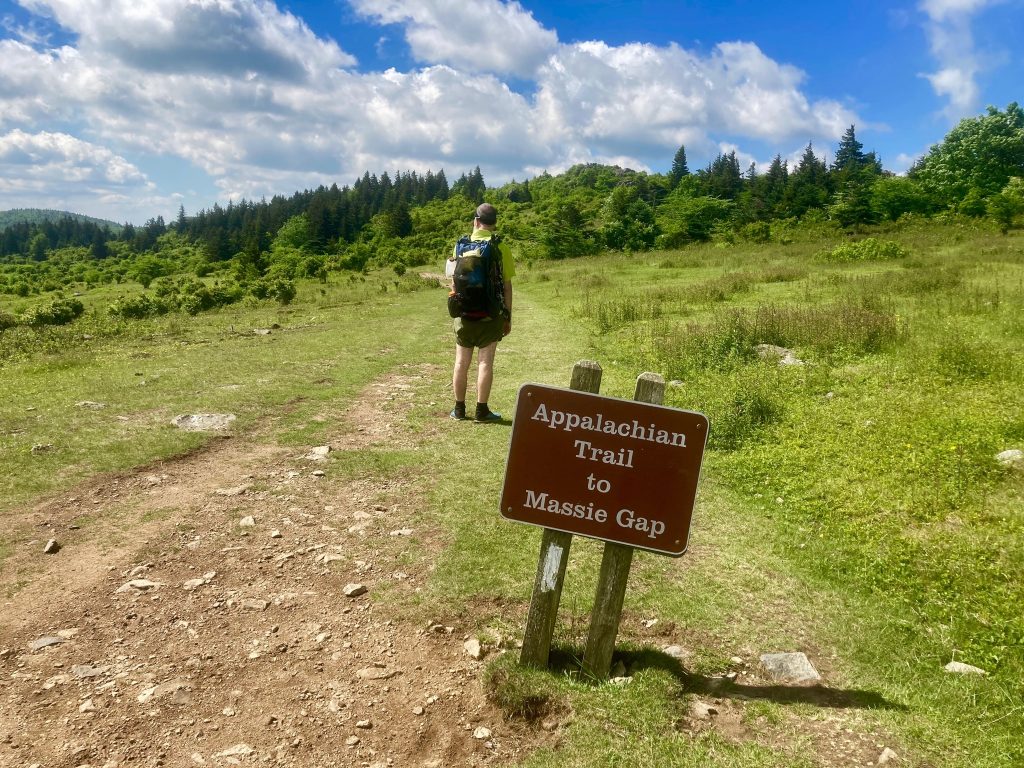 While at Wise Shelter, we encountered a LARGE group of Boy Scouts. There were about 40 kids and 6 adults in this group. We talked to the grown ups for while. They were nice. I was glad though that they were heading the other way. A group that size can overwhelm the camping capacities of a shelter.
In a high meadow, we saw long horn cattle from afar. In the Mount Rogers National Recreation Area the cattle were also brought in to control the vegetation like the ponies. The cattle were brought in starting in 2012. Unlike the ponies, who are year-round residents of this area, the cattle are only here during the warmer months.
We then came to The Scales a corral area. There is room to park here, an interpretive sign, a pit toilet with toilet paper!, and  a trash can. Long distance hikers love trash cans for the chance to dump the trash that they pack out. We saw Pink Panther again at The Scales.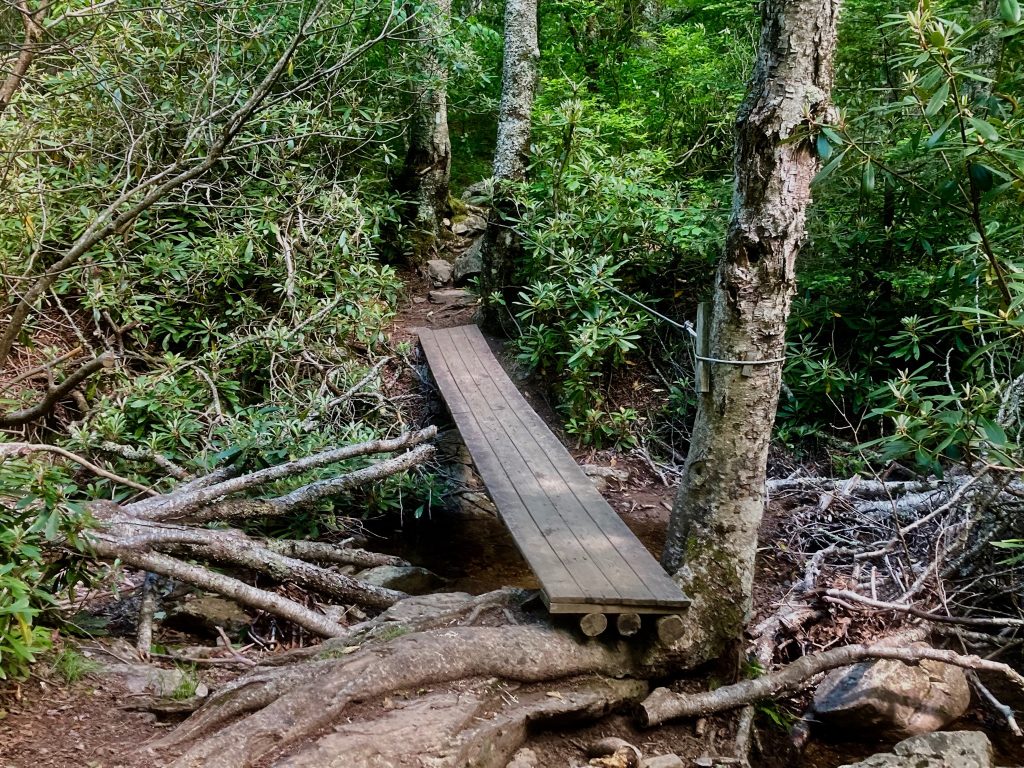 We went on to the Old Orchard Shelter. We ended up being the only people in the shelter. There were several people tenting and hammocking in the area.
Pink Panther arrived later for the evening. We also met a couple Cheeks (male) and Trouble (female) and their dog, Precious. They hiked the PCT, last summer, I think. They had also started an AT thru hike before the PCT. They met during that hike. They said that they were too much into the AT party scene during that hike. They were with a group called The Trash People. The guy trying to start The Trash People wanted to rival Riff Raff, the famous AT party group.
Frosty showed me how to boil our water for supper on his "stove." It's the bottom of a mini soda pop can turned upside down. It can use alcohol, Esbit, or tinder. He uses Esbit usually. We has the Sweet and Sour pork from Mountain House. This flavor has been discontinued unfortunately. Since Mountain House has decreased their portion size from 2.5 servings to 2, we rarely buy those anymore. We still buy some of the number ten cans and repackage them. We're always looking for store wide sales at local brick and mortar outfitters (usually the only time you can get freeze dried food on sale) or sales online of overstock, etc.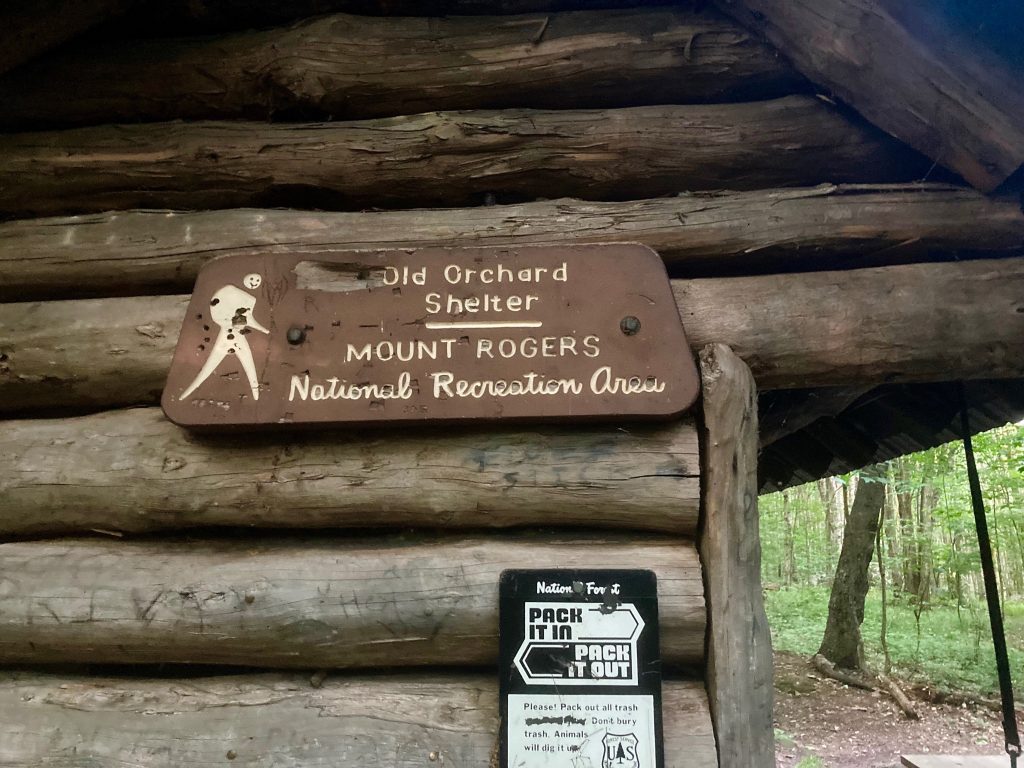 We saw a deer behind the shelter after supper. I can't believe how late it stays light here in Virginia, and how late in the morning it is when the sun comes up. It has really thrown off my sleep schedule.
Today we hiked 11.1 miles on trail. Here are more photos from our day. WARNING: Lots of pony and flower pictures below.