We got up at 6:30. Everyone else in the hostel was asleep. We gathered our things and went outside to finish packing up and eat breakfast. The view of the farm and the hills was very serene. We filled up our water bottles at the spigot.
The weather was already hot, even early in the morning. The forecast though was for rain later in the morning. We wanted to get to McAfee Knob before the rain. McAfee Knob is probably the most famous photo op on the Appalachian Trail.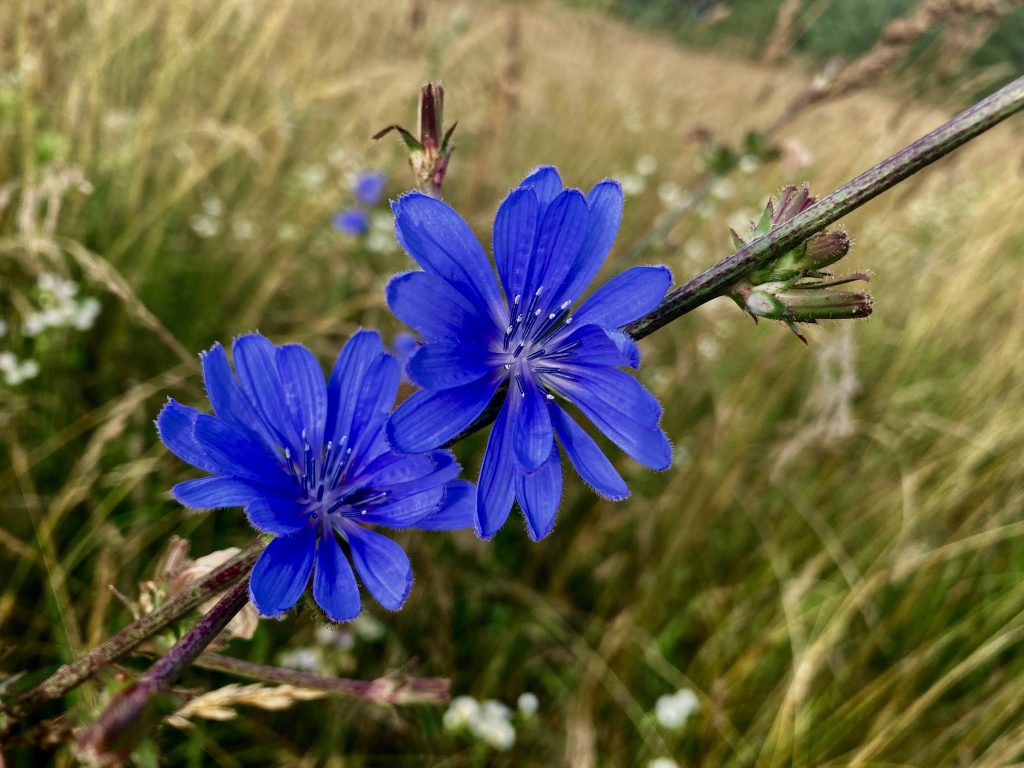 We ran into a hiking group of seniors. They talked to us for awhile. They said that they love to talk to long distance hikers and hear their stories. They told us that there was.a water cache and some bananas in the trailhead parking lot.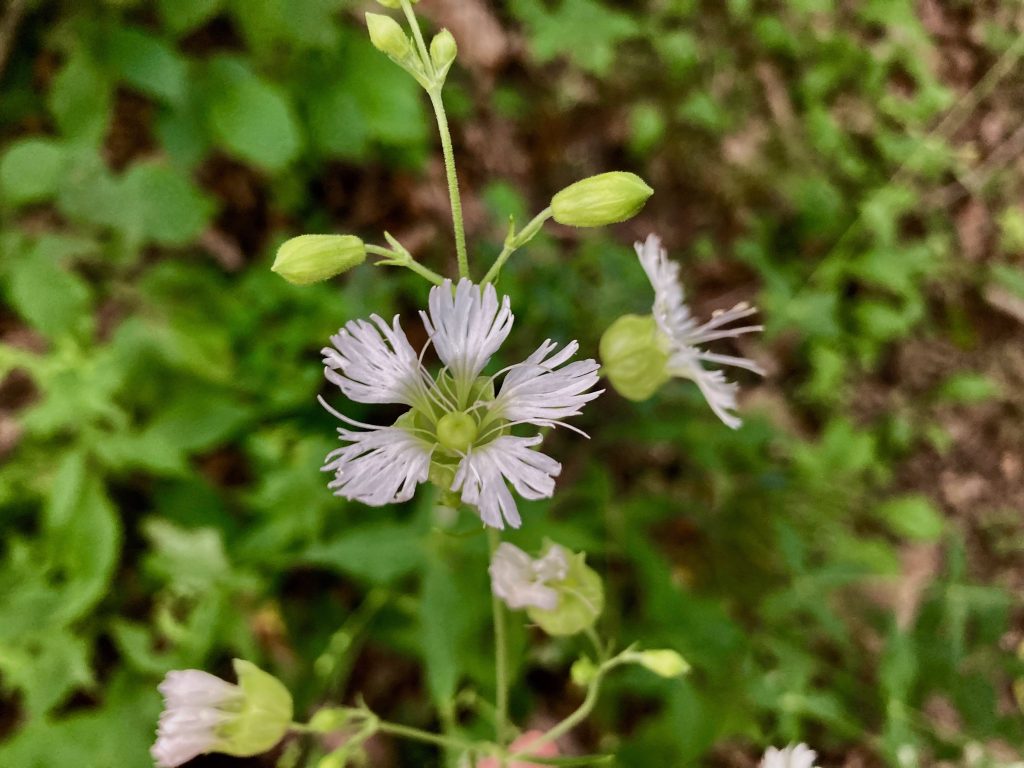 We found the water cache, and bananas, and refilled our water bottles. We passed on the bananas, since I didn't want to carry around the peels for the next few days. The parking lot didn't have a trash can.
Frosty had to be on another work conference call. He's had to do a bunch of them, but this one was a very important and on the longer side. I found it amazing that he was able to participate in these calls. First, that the technology we have now allows this. When Frosty hiked in 1992, these calls would have been impossible or very inconvenient. He would have had to be in town. Secondly, we frequently had a signal. From our experience hiking in Maine, most places don't have a signal, unless you happened to be on a mountain top. And you'd have to stay there! He was wearing earbuds and hiking along listening. Every one in awhile, he'd say something. Thankfully, this was the last work call Frosty needed to make during our trip
We stopped into Catawba Mountain Shelter for snacks and drinks. Then continued up the trail to McAfee Knob. This a popular day hiking destination, so the trail was excellent. Since it was during the week and it was supposed to rain, the trail was practically deserted. When we got to the Knob, there was one family there getting ready to leave.
We took photos of each other on the Knob. Then, Bear Trap took a few photos of us together and we returned the favor. You could see the storm rolling down the valley! We even heard thunder as it got closer.
We left and headed to Campbell Shelter which was .7 miles away. A deer and fawn ran past us on the side of the trail. I was hoping to make it to the shelter before the rain, and we did! We had like two or three rain drops hit us just before we arrived. Inside the shelter, there was gear from some other hikers, but they weren't there. They had gone to the water source to fill up before the rain. They made it back with just a few sprinkles. Five minutes after arriving at the shelter. It poured rain.
The gear in the shelter belonged to two different hikers. We met Melanie. She was on day two of a month long hike. She was a science teacher from Michigan. Jon was the other hiker. He was out for a week long hike. His son thru hiked last year. He had a dog named Katahdin.
Then Bear Trap showed up. This is when we learned his trail name. He got his trail name because he worked with his dad to make a bear trap for his grandfather's birthday right before leaving for the trail. His dad has a blacksmith shop.
Bear Trap amused us with his comments about the Four Pines hostel. He said, "I didn't know how to communicate there." Which is how Frosty felt. Bear Trap also echoed my thoughts from yesterday saying he thought it was a new age opium den. Bear Trap was about 20. He had worked with AmeriCorps before starting the trail. He had worked on trail maintenance and reforestation in Arizona, Utah, California, and South Dakota. Bear Trap was from outside Pittsburgh. He was thru hiking. He was doing a flip flop. He started somewhere in Virginia, if i remembered correctly.
Frosty and I snacked and talked with the others for an hour. The rain had slowly petered out and then stopped. Frosty checked the weather. It was so early in the afternoon. We weren't sure about stopping, so early. But also, I hate the rain, and there was a 40% chance of more rain later on.
We decided to push on. We hiked by Tinker Cliffs. The third, when traveling northbound, of Virginia's triple crown of hiking. The rocks in this area were cool, but there wasn't a view due to the cloudy, misty skies.
It started raining an hour after we left the shelter. I got in a bad mood. I was fairly certain that it was going to rain again, but was still grumpy that it did. This was my second and last foul mood of our trip. The other was just the day before hiking over Dragon's Tooth. I was slow moving and soaked, despite my umbrella.
We passed a young buck just to the side of the trail. He was eating in the rain and was really chill to our presence. A couple of slack packers whizzed by us.
I was very excited to get to the next shelter, the Lamberts Meadow Shelter. When we arrived, there were already six people and a dog in the shelter, which happens when it rains. They moved over and made room for us. It was still raining steadily.
Frodo, who we met near Pearisburg, was there. Three of the hikers kept to themselves, a couple and the hiker with the dog. The dog, a blue-eyed, Alaskan husky was SO well trained and so beautiful. The dog was on her own sleep pad next to me. I was so impressed with this dog. We met BooBoo, who had started a thru hike, then got off trail. Then decided to come back to try again. He decided though to end his attempt in Daleville. He had loved the Four Pines hostel and had thought about just stying thee for the summer. And we met Mantis, she was sectioning SOBO.
After about an hour, Bear Trap showed up. He said Jon's dog lunged at him trying to bite him. He chatted for a while, but didn't ask to squeeze in. I was hoping he would ask or someone else would offer. I felt like it wasn't my place, since the other hikers were all there first. After awhile, he took off.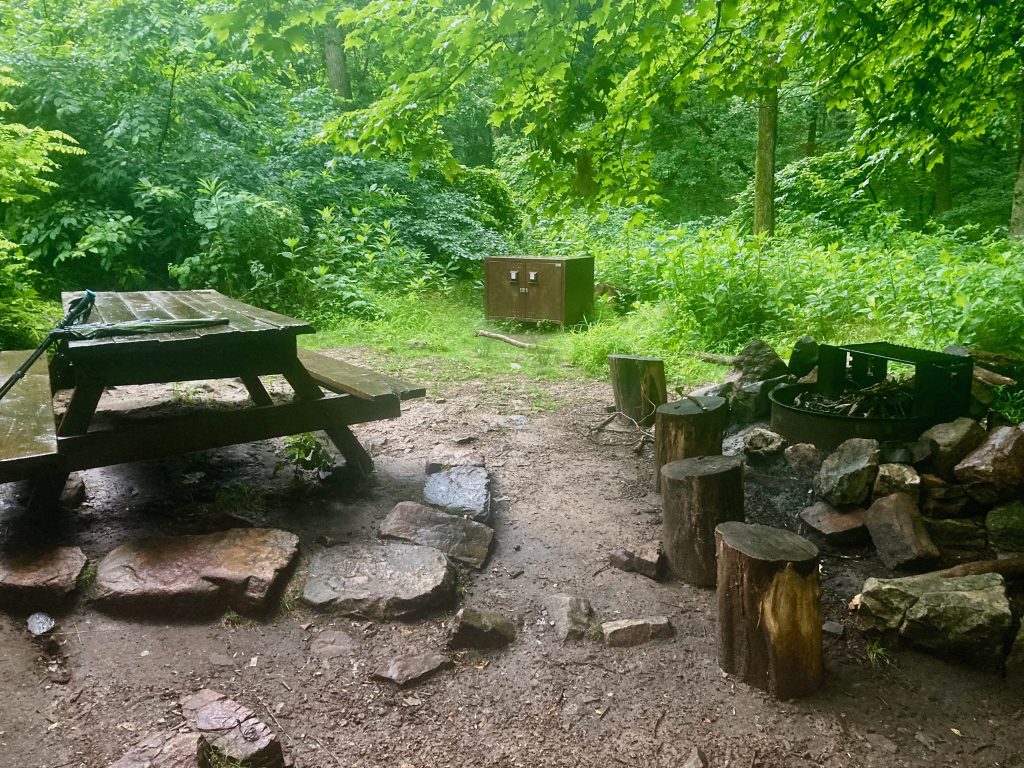 In the evening, as dusk set in, it stopped raining. Four of the hikers decided to leave the shelter and tent/hammock. Frosty and I stayed in the shelter with BooBoo and Mantis. It did rain off and on during the night. I woke during the night and noticed a wet spot on my quilt. The shelter was leaking. I moved over and went back to sleep. Frosty woke me up later. I was still getting dripped on. I hadn't moved over enough and was too sleepy to realize that at the time.
We hiked 16.36 trail miles today.