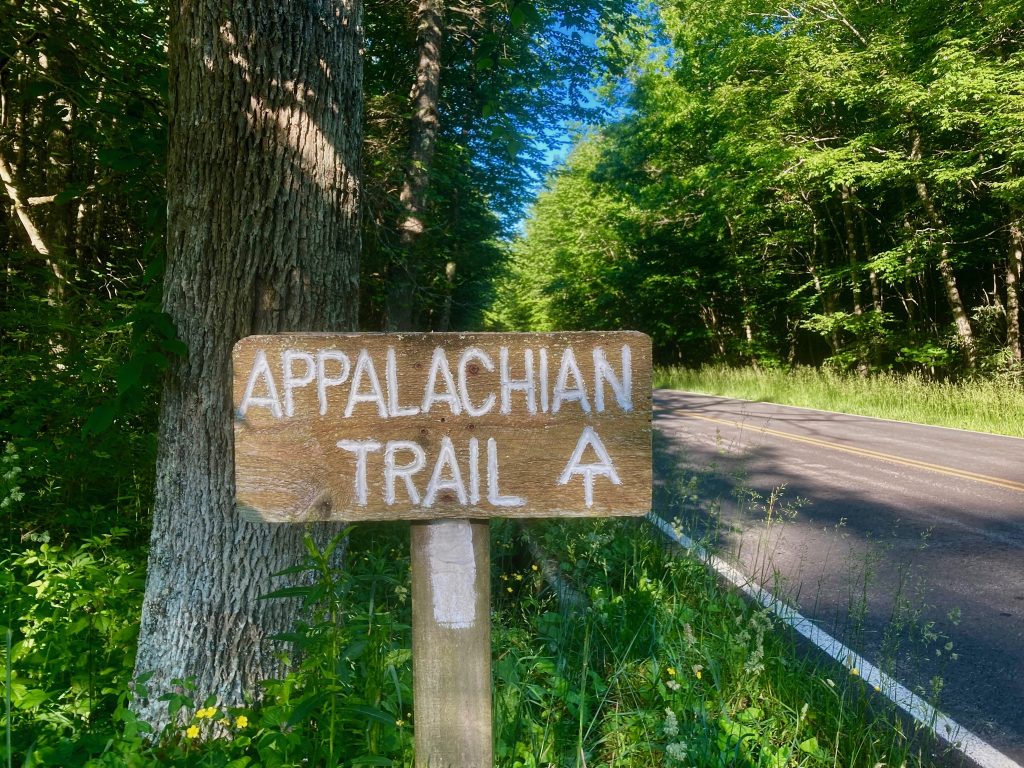 We left the Old Orchard Shelter and ate breakfast as we were hiking. We crossed Comers Creek this morning. This area had been closed earlier this year due to a bridge being dismantled. The bridge had been deemed unsafe by the U.S. Forest Service because of structural damage. The trail had been officially rerouted while crews worked on the project.
The reroute added 1.3 miles. The crews dismantled the old bridge and repurposed some of the wood to make stairs on the bank. The bridge had been 33 feet long. Now hikers walk down the bank and cross the stream by rock hopping or fording, if the water's higher. The re-route is now an official high water blue blaze.
We had to go into to the tiny town of Troutdale. Frosty had sent a resupply box to the local post office. On weekdays (it was Wednesday), the post office closes at noon. It was a long shot that we'd make it in time to pick up our package. The post office would open the next day at 8:00.
We got off trail at Dickey Gap VA Route 650. Just a tiny bit up the road is VA Route 16, the road into Troutdale, and a trailhead parking lot. We had left camp at 7:45 and got to Dickey Gap at 12:05. We hiked 10 trail miles today.
According to Guthooks, Route 16 wasn't the easiest place to get a hitch. It had steady-ish traffic, but the road was curvy here with limited visibility down the road and not a great place to pull over. We could road walk the three miles into Troutdale, but the road seemed a bit sketchy to walk down.
We tried our luck at hitching. We had been trying to hitch for about ten minutes when a small Lynx shuttle van pulled into the parking lot behind us. Frosty went over to ask about a ride to Troutdale. The driver was actually there to pick up another hiker at 12:30, but he decided he had time to bring us into Troutdale!! He was so sweet and he didn't even want any money.
The shuttle driver dropped us off at the post office. It was 12:25. We were hoping that a worker was still inside closing up. But no, no-one was there. We sat down to rest for a bit and a postal vehicle pulled in. We got hopeful. Frosty went up to talk to the driver. But he was actually a postal worker from Roanoke who had driven up here to bring a package to this post office. He was disappointed that it was closed too. But he was able to deposit his package in a delivery slot.
We talked to a man across the street who was mowing his lawn. He told us how to find the local church hostel that we were headed to. We started to walk away when a postal worker who had been out delivering mail came back to the post office!!! She went inside and got our package!
We could've tried to get back on trail, but decided to go to the hostel. We could clean up, open our box, and reorganize our packs.
This hostel was run by the local Baptist church. It was a donation based shelter. There was a bunkhouse with two rooms. Each room had two bunk beds in it. There were also places to tent or hammock on the grounds. Rising Sun was the trail name of the caretaker for the hostile.
There was a porta potty near the bunkhouse and the old church (a newer church had been built across the street) had a bathroom accessible from the outside on the back of the church.
Frosty and I each claimed a bottom bunk in one of the rooms. Then I headed down to the church to shower. It was so great to have a hot shower (and a flush toilet). Supplies that a hiker might need were left in the bathroom. There were towels, wash clothes, shampoo, body wash, lotion, etc. Frosty showered second.
Just up the hill from the bunkhouse is a pavilion for outdoor church gathering and storage. There was a hot plate and microwave that they let hikers use. They also had some potatoes that they were offering to hikers. Frosty cooked four potatoes on the hot plate. It was a slow process. The hot plate seemed under powered.
Pink Panther had shown up. She called a shuttle driver and went to a Dollar General in a neighboring town. The shuttle driver had a rep for overcharging and he overcharged her. She decided to hammock instead of stay in the bunkhouse.
We met a local parishioner who spends his summers in this area and his grandson. They were preparing for a canoe trip tomorrow. Pink Panther asked if he'd give us a ride back to the trail tomorrow morning and he agreed.
There were lawn chairs and a glider porch swing on the deck of the bunkhouse, so we sat outside. Frosty made beef stroganoff for supper. He had two potatoes, and I had one. Another hiker, Samwise had one. No other hikers showed up.
This was the first time that we met Samwise the Fox. He was 19 and had dropped out of high school during the past winter because he didn't like remote learning. He spent a lot of time complaining about everything. In a way, he seemed to be running away from his parents. They knew he was out here, but I think he wanted to get away from them. Sam was hiking without a phone. From his stories, he was living off hiker boxes and skipping some parts of the trail. He was seeking out donation based hostels (free to him), to stay at. There are a few of these donation based hostels, but not a lot. He shared a story of finding a bunch of freeze dried meals in the bear box at Old Orchard shelter. I hope no-one is missing their food.
The bunkhouse had outlets, so we were able to charge our devices. It also had a heater. I was happy about that in the middle of the night when I got cold and Frosty turned it on.
We were so fortunate today. Both getting into the post office, getting a ride into Troutdale with the Lynx shuttle, and arranging the ride back for tomorrow. Frosty talked about how in 1992 when he hiked that this type of serendipity was what hikers called trail magic, not free food.