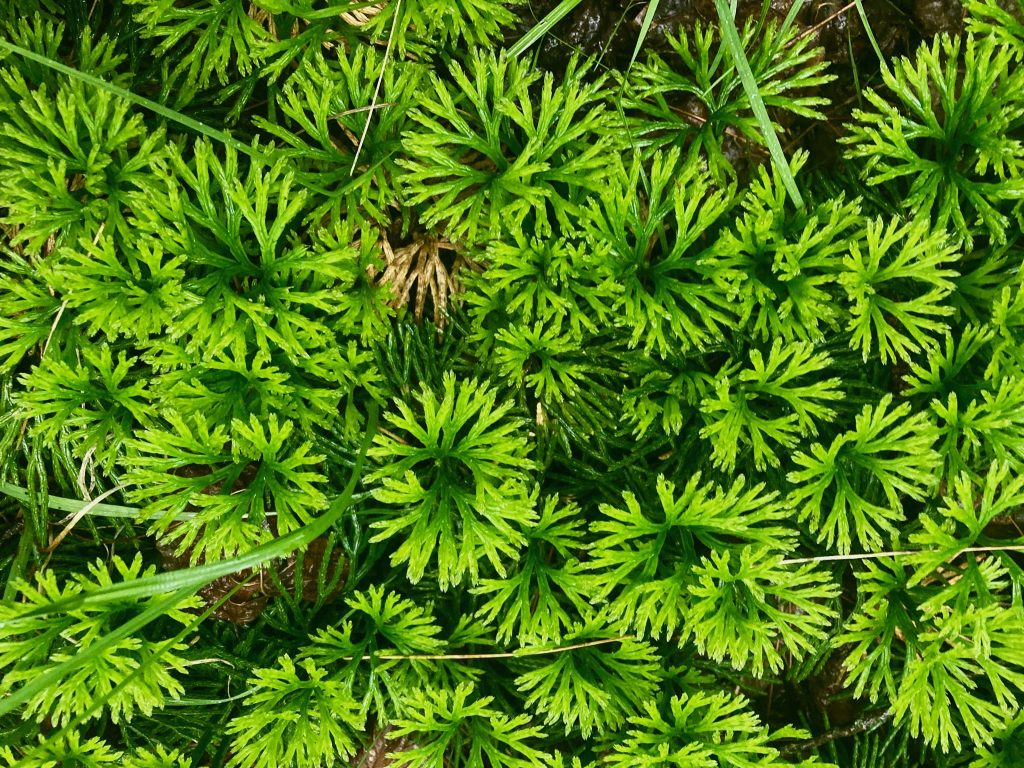 This day was another rainy day with various forms and intensities of rain. There were some breaks in the rain while we were hiking, but I stayed gray and damp.
Yesterday, I was able to maintain a neutral (as opposed to negative) attitude about the rain. That was good for me, since I hate rain. I had periods of neutrality today, but slipped into some negativity.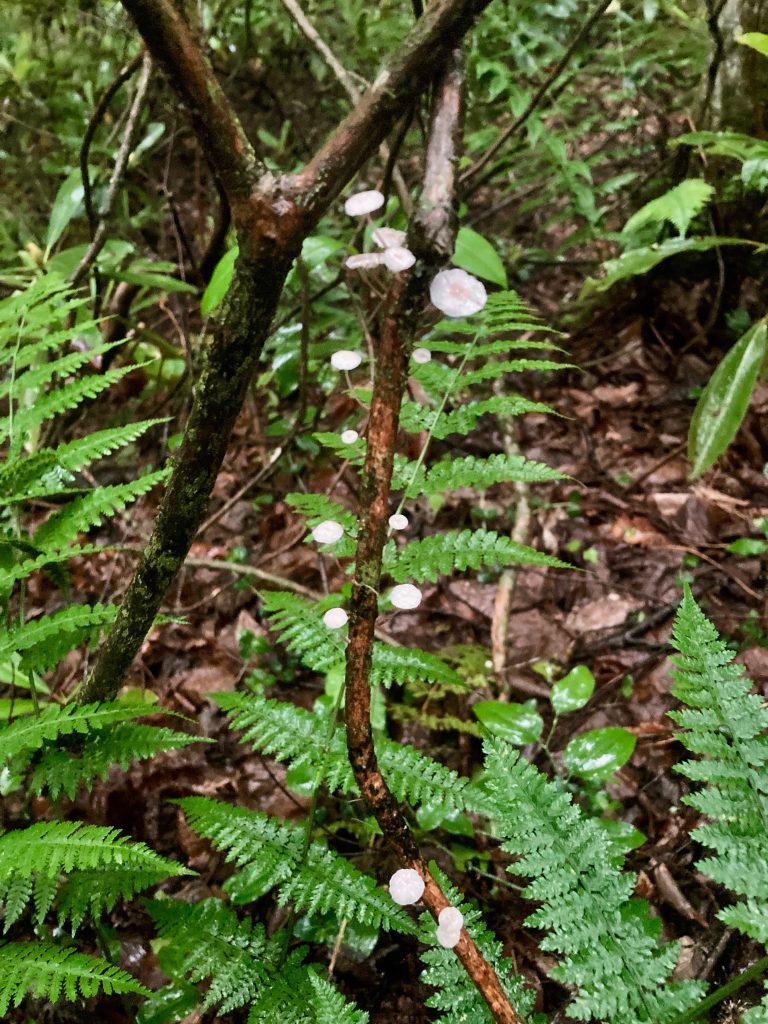 In the morning, we hiked through a lot more blooming mountain laurel. One area also had a lot of sage-y colored moss on the trees along with the mountain laurel. The trail looked like a wedding aisle.
The trail followed and crossed streams for quite awhile in the morning. I enjoyed the views of the streams. At least we got that because we didn't have any views at any of the viewpoints while hiking due to the rain and overcast conditions.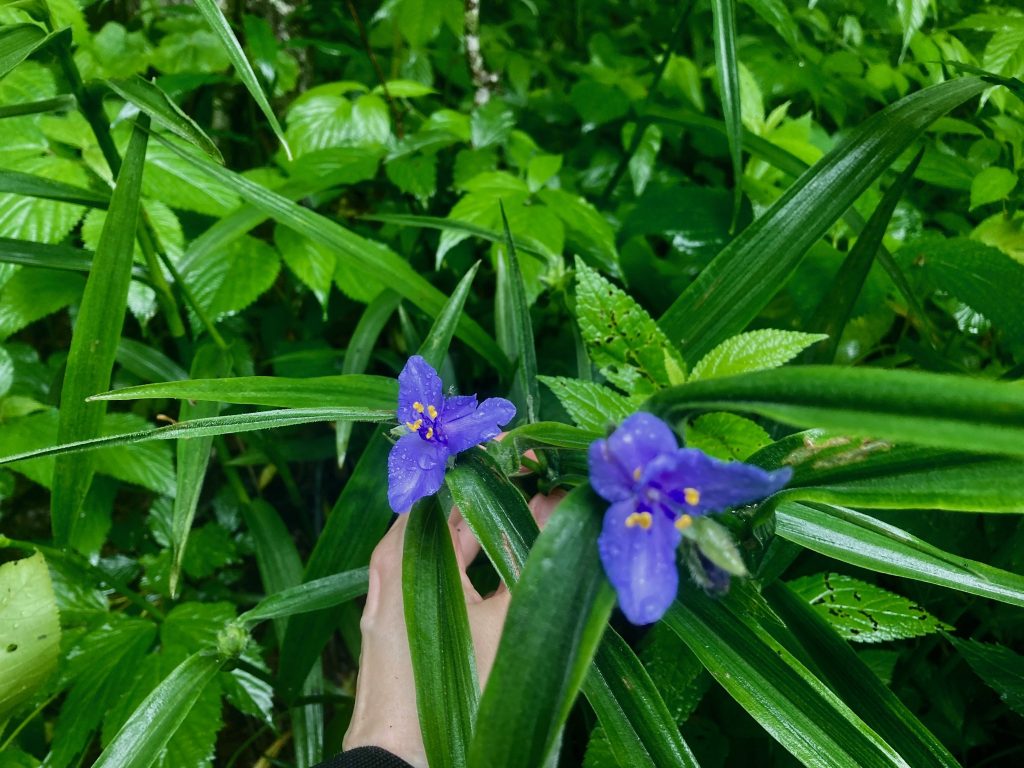 There was a dead snake in the stream. It was one of those big black snakes. It had two puncture holes in it, like someone had stabbed it with trekking poles. That made me sad. I hoped no-one purposefully killed the snake.
We crossed one big bridge that was built for the Virginia Creeper trail. We didn't see any cyclists today.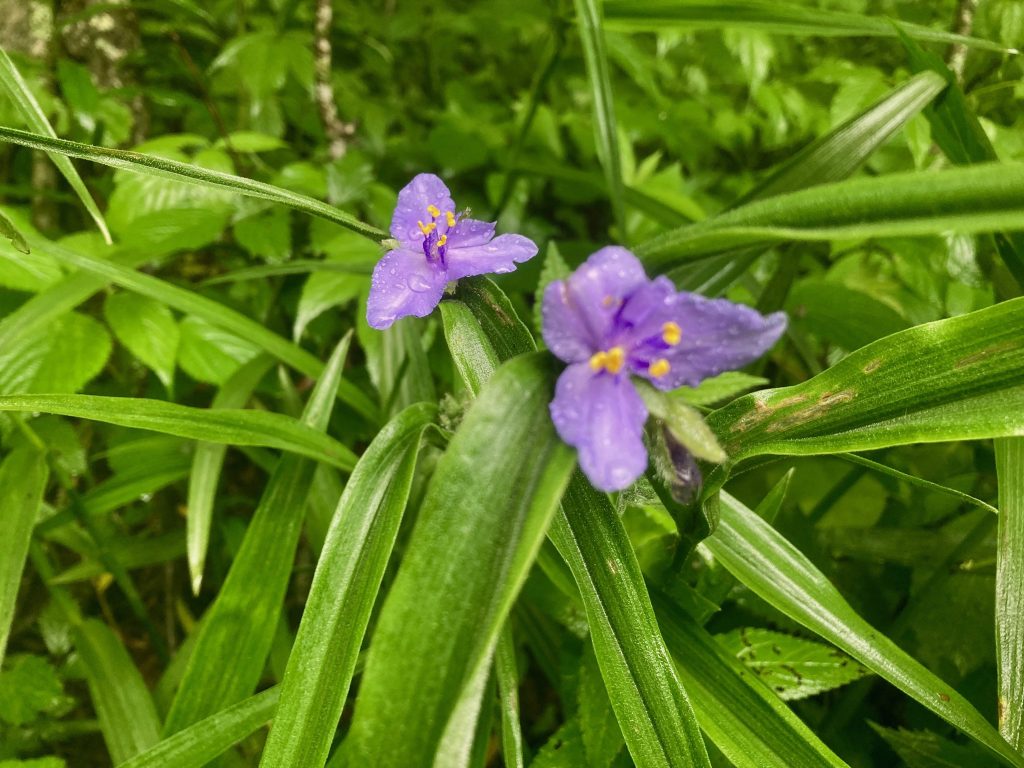 I didn't really want to stop too long anywhere, since it was raining. When we stopped I would get chilled. I had a hard time with layering today. When I put on my rain coat, I'd get sweaty and hot, but I was slightly cold at times without it.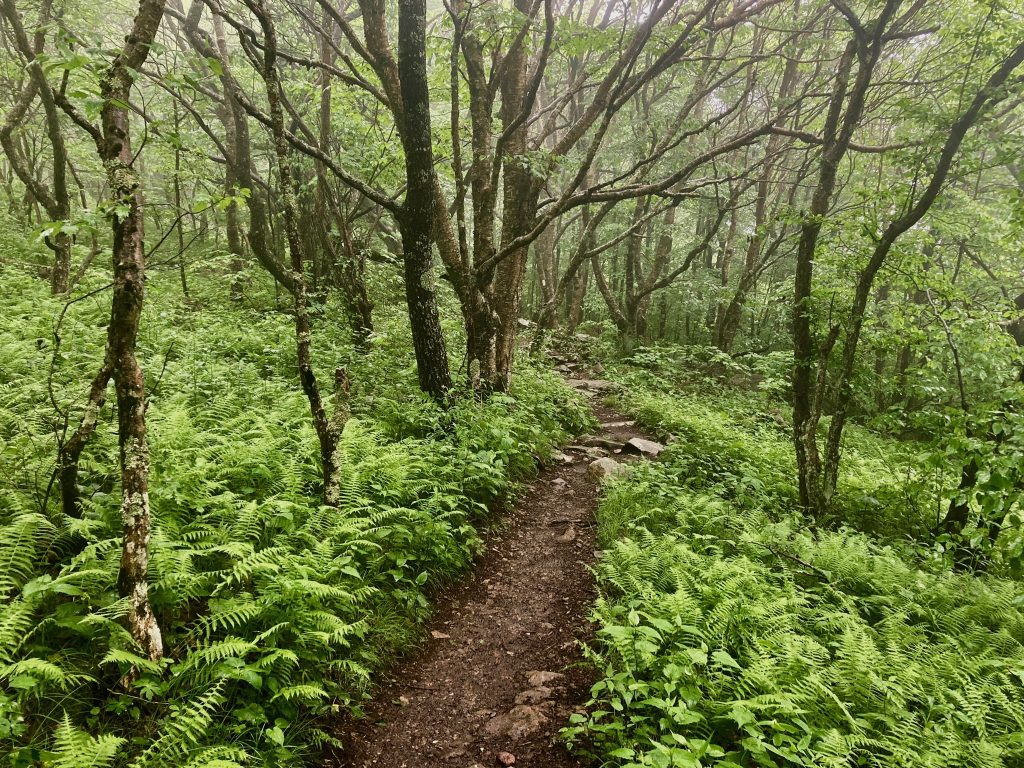 When we reached Buzzard Rocks, we were out in scrub vegetation in rain and wind. I got very cold. I had to put on my fleece and wind breaker. My teeth were chattering. I got sweaty, since windbreakers (even thin ones) don't breathe super well.  I was miserable in that moment.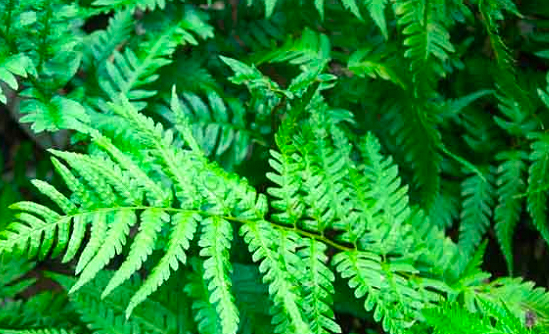 Remarkably, not long after that, it stopped raining and the sun came out. It was so great to have sun. We also started hiking through an area dense with blooming flame azalea. Wow! My mood changed instantly. I was overcome with awe at the incredible vibrancy of these flowers.
We stopped for the day at an unofficial campsite not far from these majestic flowers. Our campsite (Piped Spring Campsite) was in the woods, but close to a clearing. We got into camp early, but I was tired. We had hiked 12.5 miles.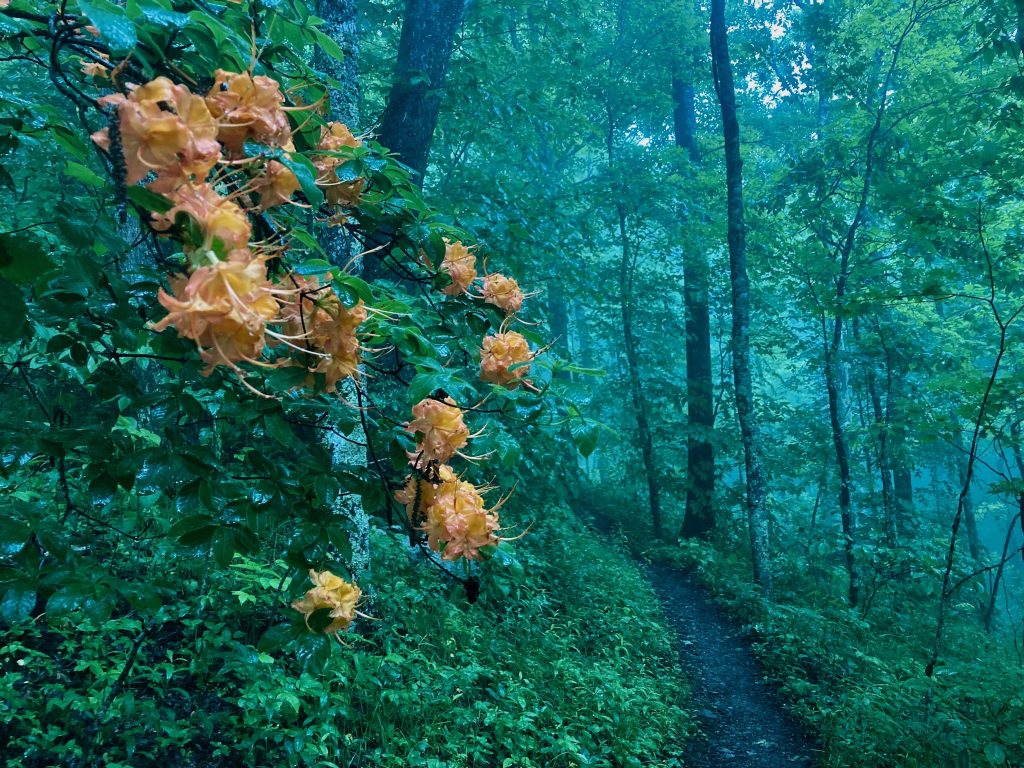 Frosty set up our tent, while I mixed up our recovery drink. Frosty then went to sit on a rock in the clearing. I was lying down in the tent. After awhile, I decided to join Frosty. I grabbed a snack and my sit pad and headed up to the clearing.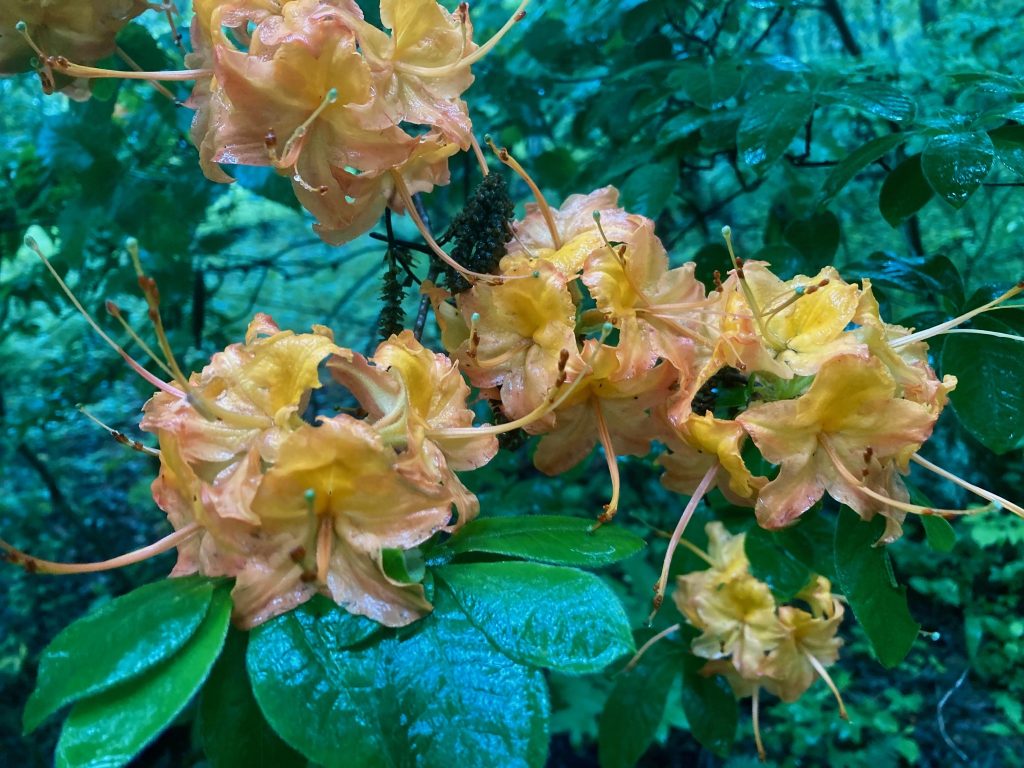 The sun felt so good. We had a nice view from the rock. We watched a doe and her fawn for quite awhile. The fawn was the smallest one Frosty had ever seen. He speculated that it had been born that day. It was wobbly on it's feet and mom was licking him frequently.
The deer left, and I ate my trail mix. Then I started feeling nauseous. I started breathing with long, slow deliberate breaths to try to ease the nausea. I was thinking, "Oh, no! I've got norovirus. It can't be. Can it? I don't want to be vomiting (or worse) in the woods." All these thoughts went through my head almost instantly. I remember feeling weird, light headed. I put my head down low.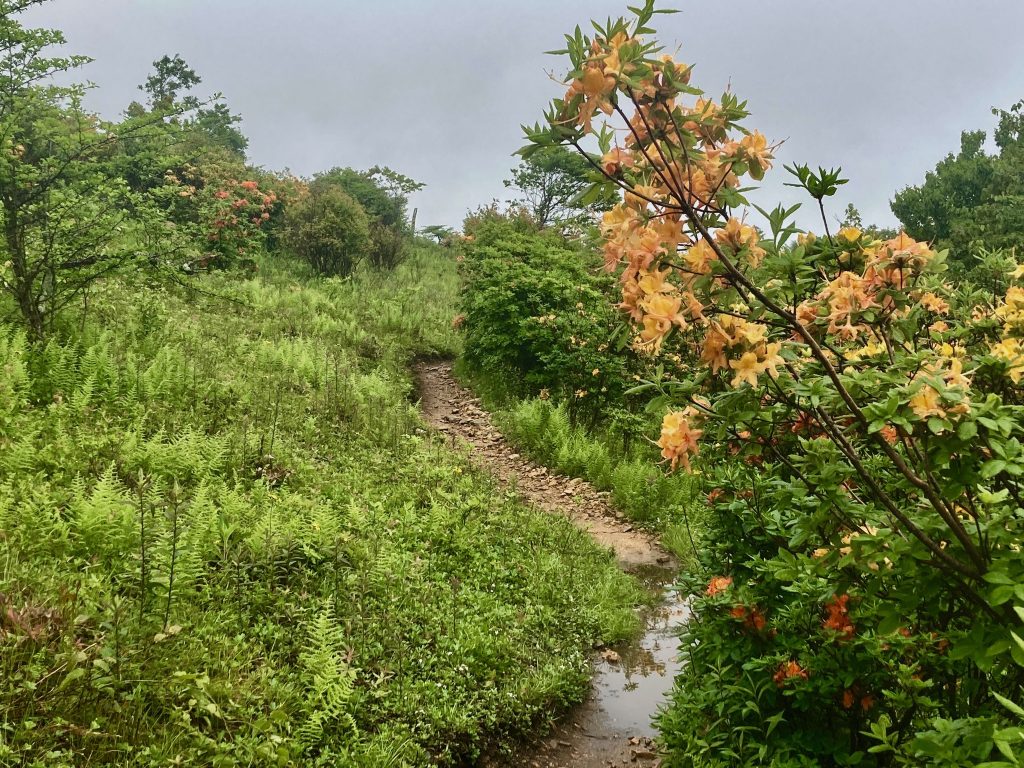 That is the last that I remember. Frosty said that I said, "I'm going to faint." I don't remember that at all. I remember "waking up" on the rock. I was lying down. Frosty was shaking me. I was thinking just let me sleep. I felt very sluggish and sleepy, and when I closed my eyes it was overwhelmingly black.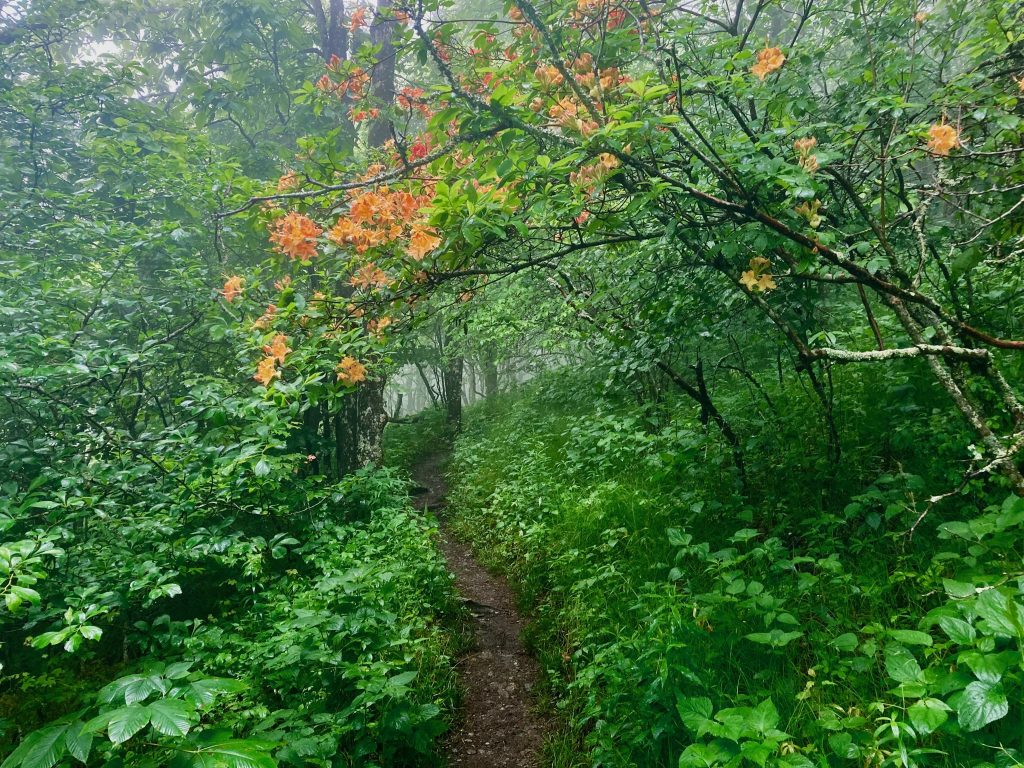 Apparently, I had passed out right after saying that I would. I slumped against Frosty and he laid me down on the rock. Then shook me to return me to consciousness. Understandably, Frosty was worried about me. This was the first time that I had ever fainted.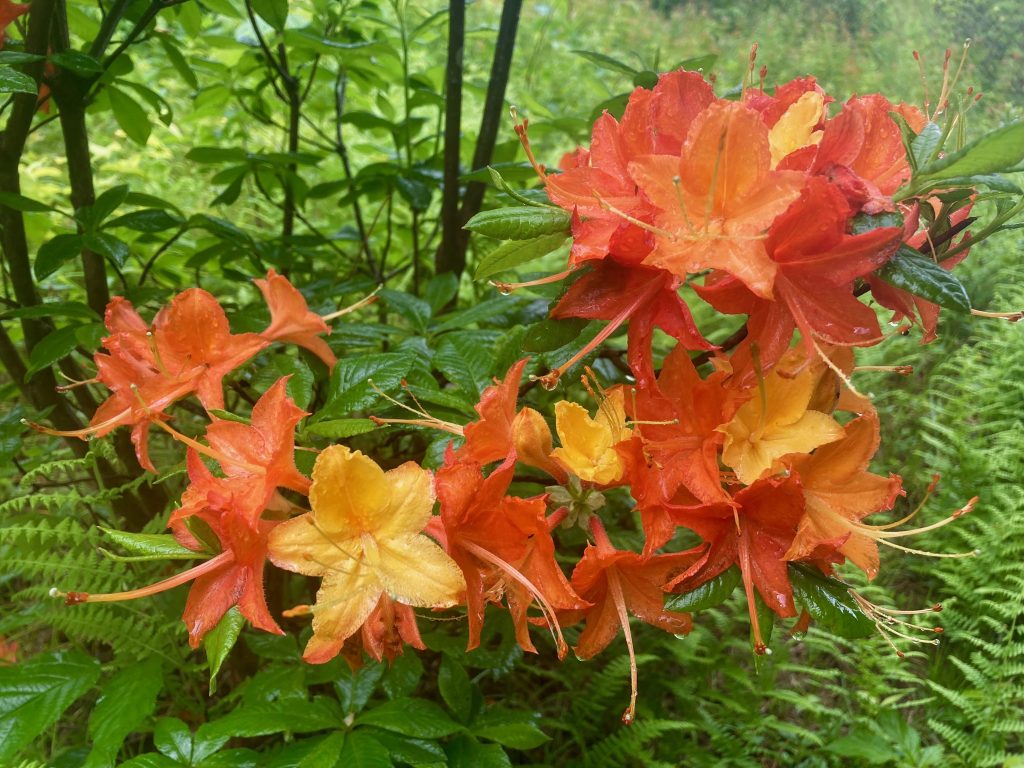 This campsite is near a dirt road up Whitetop Mountain, the second highest mountain in Virginia. Frosty heard a vehicle, coming down the road. He went and flagged the vehicle down.
The couple in the truck, Kathy and Troy, came over to check on me. It turned out Kathy was a nurse, and Troy was retired military. She said that I looked pretty pale. I also still felt tired, weak, faint, and dizzy.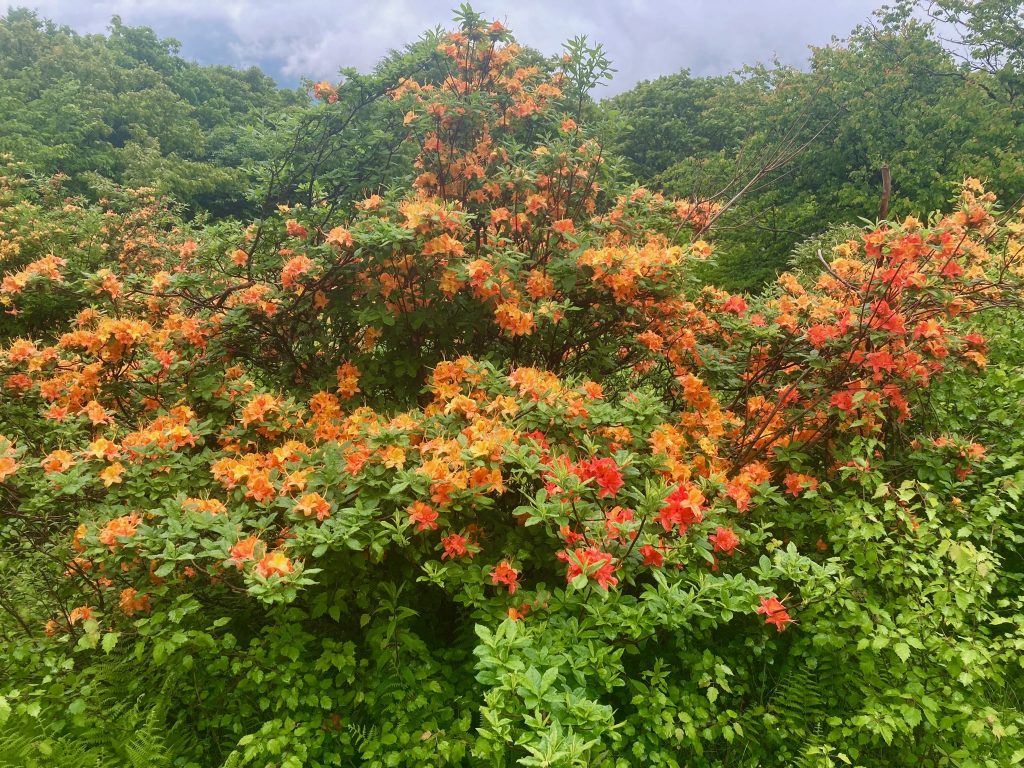 They were super nice and very concerned about my state. They had lots of suggestions about what to eat to stay healthy while hiking. Since they were totally unfamiliar with backpacking, the suggestions were a not practical (milk, cook up steak, etc.).
Frosty and I had to decide whether to stay or to get a ride to civilization with them. This was a hard decision for me. I knew that there would be extra expense and logistics involved with going into town and getting back on trail. I thought that I'd be fine, but I also knew at that moment I was still very weak and faint feeling. I often try to power through things, but I knew Frosty was worried. If anything else were to happen, there probably wouldn't be many vehicles coming through later in the day. So I decided to go against my natural instinct to stay at the campsite.
Troy and Frosty packed up our stuff quickly. Troy was surprised at how little camping gear we carried, not being familiar with long distance hiking. Later, we discovered that my glasses got broken when the tent got packed up. They had been hanging on a loop inside the tent unbeknownst to Frosty.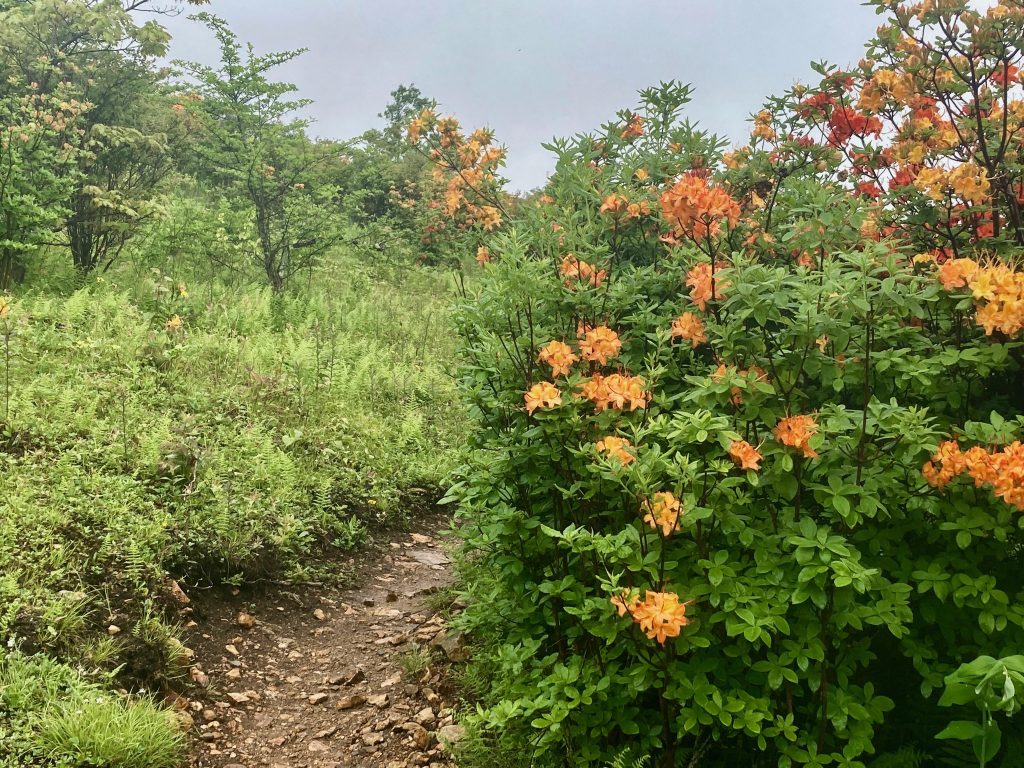 When we got in the vehicle, Kathy had me drink a bottle of water.. They also asked if I wanted Goody Powder. I had no idea what they were talking about. They explained it was like BC Powder. Still crickets….. no idea. I'd never heard of these powder concoctions that they spoke of. Kathy and Troy were surprised at our unfamiliarity with these medications. Clearly, these powders were valued by Troy and Kathy, so I took some Goody Powder. I also ate some peanut butter sandwich crackers. I started to feel better, but was a long way off from feeling fine.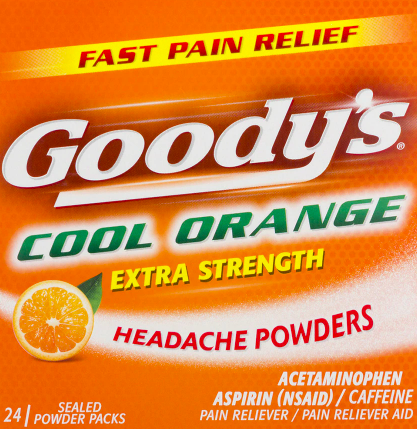 Kathy and Troy were so incredibly kind and generous. They drove us to Abingdon, since there was a hospital here, if I had more trouble. They dropped us off at the Holiday Inn Express. They chose this hotel since it was in walking distance of some restaurants and a grocery store. I felt bad, I think they were actually on a date. I also felt very fortunate to experience how the trail often provides what we need. Their kindness in helping strangers touched my soul.
I laid down when we got into the hotel room and fell asleep.I made sure to rest and recover. I felt better when I woke up. I had been cold after passing out, so it felt nice to be able to wrap up in blankets.
Frosty went out to the grocery store, Food City, to get snacks and a supper, chicken caesar salad, for me. He picked up a sub for himself at Jersey Mike's. I also had Dr. Pepper and Power Ade.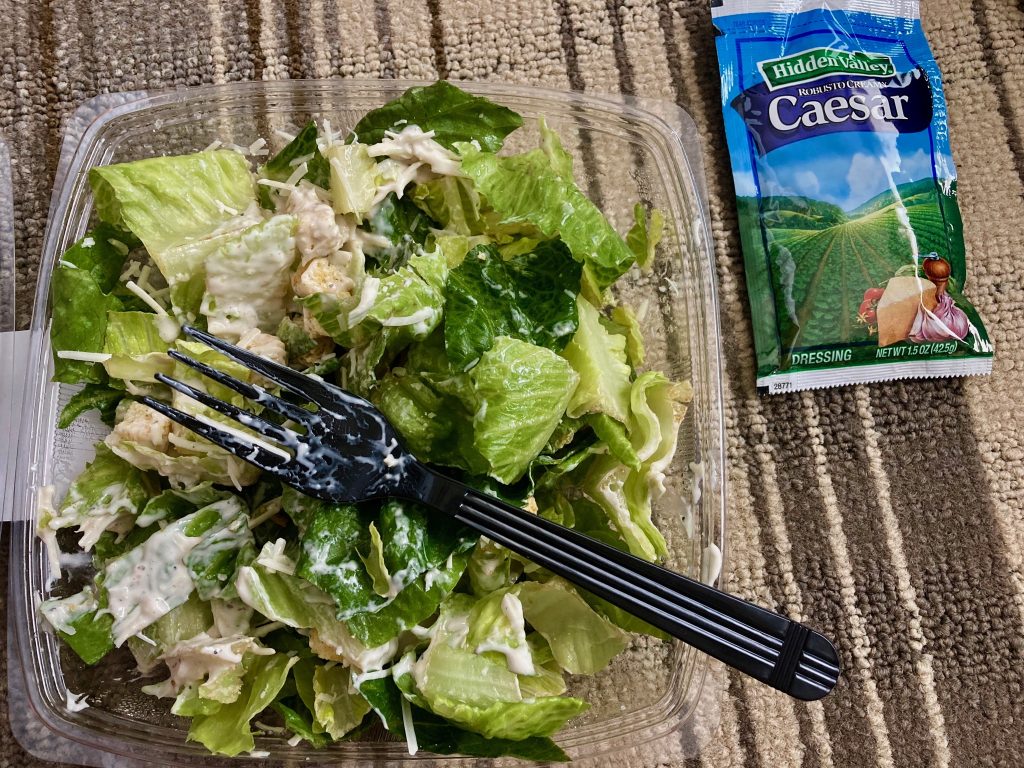 I started googling after I woke up, and I think that I was dehydrated. I hadn't wanted to stop in the rain and drink. I wasn't thirsty. It was cold and wet. The entire day before we made camp I drank 1 liter. Then at camp I had a half liter protein recovery drink. I thought I drank enough, but I guess not. I felt so guilty and embarrassed about causing all of this hassle.