On Saturday, Jan. 18th, Frosty and I headed to Great Pond Mountain. We drove to the lower lot near the gate for the Dead River Road. It had warmed up to one degree when we started our adventure with little wind. We put on spikes and headed out.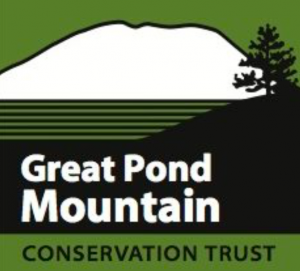 We started off on the Dead River Road. Then we headed up an old, overgrown logging road. It was a bit steep. While heading up, we passed two areas that had been scraped up by deer looking for acorns.
We continued up the logging road until we hit the Hay Ledges Trail. We followed the Hay Ledges Trail to the juncture with the main trail (the Stuart Gross Trail) up the mountain. This is the first time I have been on this trail in the winter when it wasn't a thick sheet of ice.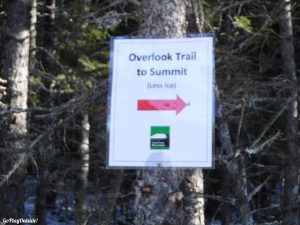 We continued on the main trail until we came to the Overlook Trail. The sign touts this as the "less ice" route. Even though ice wasn't an issues today, we took the bypass. The views on this trail are wonderful. It is definitely worth taking even when there isn't as much ice.
The ledges near the summit were mostly bare or covered with a thin layer of wind packed snow. The view from the ledges was awesome. We took the Summit Loop Trail around the top, before heading back down.
We headed back down on the Stuart Gross Trail for a little while. Then we left the trail and bushwhacked down a different old tote road to connect with the Dead River Road again.
Today we saw lots of tracks; mouse, coyote, deer, squirrel, and rabbit. We also ran into one other couple while hiking. I thought on a sunny Saturday that more people would be out.
It had warmed up to 12° when we finished our hike. We hiked 5.5 miles total according to my Garmin watch.
On a side note, I tried out a new balaclava that I found at Ocean State Job Lots for $15. It was very thick and wind/waterproof. It would have been great for a colder day or a more stationary outdoor winter activity. For hiking, it was great for my ears and face, but a bit too hot. The major flaw though was that I couldn't see my feet when I looked down. Luckily, this hike didn't have serious footing issues. The other flaw is one that happens with every face mask and eyewear combination that I have tried. And that is quiet a few. My problem is that my glasses or goggles always fog up.I can't seem to find the right gear, so that I can eliminate this from happening. The search continues.