Frosty and I set a challenge for ourself to hike all the trails on Cadillac Mountain in Acadia National Park in a single day. We are calling this the CATT Challenge. We failed on our first attempt on May 31st. We used this as a learning experience. Our biggest mistake was getting a late start. At our pace, 9:30 was too late to start. The other change we decided to make after this attempt was to do the West Face Trail on fresher legs.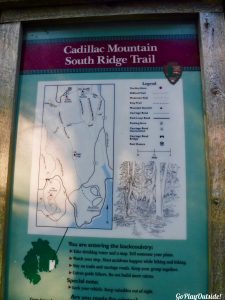 On June 19th, Frosty and I tried the CATT challenge for the second time. This time we succeeded! We started our hike just before six in the morning this time. It was a foggy, cool morning. We started on the South Ridge Trail, and hiked up to the Featherbed Pond. We didn't see any other hikers on this section. It was so peaceful being out so early.
At the trail junction near the Featherbed Pond, we stashed our poles which were in the way last time when going up the West Face Trail. This was a good place to stash them, since we needed to come back to this point and were going to be doing a trail loop that included the West Face Trail.
Then we headed down the Bubbles and Jordan Ponds Trail. This trail was nearly deserted. We met one person which surprised me. It is the only time we've met someone on this trail. There are some foot/hand rungs and railings on this section.
I had one full water bottle starting out and my Katadyn BeFree water filter. I used my BeFree at the stream near the bottom of this trail to top off my water filter. This trail meets up with the carriage road that borders Bubble Pond. We followed the carriage road toward the Bubble Pond parking lot.
We then started up the West Face Trail. This is the third time I've done this trail, and I've never seen another hiker, besides Frosty — of course , on it. I have a fear of falling, so this trail is challenging for me. I wore shorts the last time on this section and scraped my legs up while crawling and scrambling in a couple places. This time I wore leggings, and it went much better.
I did feel more competent on this trip up the West Face. It was drier, which made it a bit less precarious feeling. Plus, my legs were less tired, since I only had four miles on them. Last time, we had done eight miles of more challenging trail before starting up this section.
We finished the West Face Trail 22 minutes faster than last time. This made me feel great! The West Face Trail joins up to the South Ridge Trail. At this point, we headed down to the Featherbed Pond to retrieve our poles and connect back to the section of the South Ridge Trail where we had left. Then we had to retrace our steps back up and beyond to the summit.
There were a few more people on the trail now, but still we only met six people from the pond up to the summit. The fog had burned off the mountain and was hanging offshore now. It was clear that the day was going to be warmer and sunnier than predicted. We had been hoping for a cool day to do this challenge. Oh well, it did make for some pretty views.
While at the summit, we used the restroom and the water bottle filling station. There were a number of people and vehicles at the summit. It was crowded, but not annoyingly so, since it was still on the early side for vacationers.
We had done seven miles at this point. Next, we headed down the North Ridge Trail. There were quite a few hikers heading up this trail. The North Ridge Trail has some expansive ocean views as you hike down. My first trip of the day happened on this section. I trip a lot, so this was the first of many more. The longer I hike the more I trip.
We crossed the Park Loop Road to the juncture with the Kebo Brook Trail. There weren't any other people on this trail. It was a nice walking path. We continued on until we met the Gorge Path.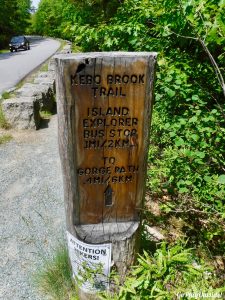 The Gorge Path starts out flat before entering the stair stepper portion of the trail. There are more than 1,000 stone steps on the Gorge Path. I love the seeing the stream tumbling down the rocks in this section. We stopped here for a fifteen minute lunch break next to a little waterfall. Then we headed up again. My legs were feeling the miles on them at this point.
The Gorge Path was cool and shady. We were also treated to an occasional breeze today. Once we reached the saddle of Dorr and Cadillac Mountains, we stashed the poles again. As the Gorge Path continues up Cadillac from the saddle, it becomes exposed. This section was hot as the sun beat down on us. This part of the trail also has some rock scrambling.
The summit was its usual tourist season, mid-day zoo by this point in our hike. There were a few rangers up top, as well as, a film crew. The were a few cameramen getting shots. One was interviewing a ranger. It looked like a documentary in the making. There were also kids running everywhere, and tourists taking selfies and group shots in every direction.
There was also a large group of Cadillac Summit Stewards that appeared to be getting trained. The leader was instructing the group in how to dismantle unofficial cairns and other rock art and remove and scatter the rocks.
While at the summit, we used the restrooms again and refilled water bottles. We walked the paved, summit loop trail while dodging tourists along the way. Then we headed back down the Gorge Path. With my short legs, I did a fair amount of scootching as we descended.
Once we reached the saddle, we retrieved our poles and headed down the A. Murray Young Path. This was another deserted trail. This trail also follows a stream and crosses over it multiple times. Did I mention that I love mountain streams? Stream crossing with foot soaking potential, not so much, but that wasn't the case today. Much to my joy, we were also in the shade again!
We followed the A. Murray Young Path to the junction of the Canon Brook Trail and started up once again. As we headed up, my legs were letting me know they were tired! This section of the trail is steep in places and dangerous when wet. Luckily, it was pretty dry. Any wet rock was easily avoided. I sprained my wrist in a fall last summer descending this trail on wet ledges that couldn't be avoided.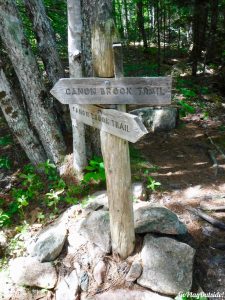 Frosty and I stopped for fifteen minute snack break next to another little waterfall. We also filtered some more water here. While on this trail, we met a few hikers. As we approached the junction with the South Ridge Trail at Featherbed Pond, we found a few lady slippers. I love lady slippers. Once we reached the South Ridge Trail, we started descending again.
On the way up, I had stopped at a little marsh in the crevice of some ledges. It was full of what we called swamp fuzzies. I found out it is actually called cotton grass. As we ascended, the swamp fuzzies were damp with dew or fog. The swamp fuzzies had dried out and looked much more glorious than they had in the morning. So, I stopped for another photo session with them. I took over 200 photos on this hike.
We saw some really cool clouds at this point. I thought they looked like seagulls. The social media crowd said they looked like mountains when I posted them.
We had only one section of trail that hadn't been done at this point, the Eagle Crag Loop. On the ascent, we had taken the bypass for this section. Once we hit the junction of the Eagle Crag Loop I was very tired, but excited.
After finishing the Eagle Crag Loop, we continued down the South Ridge Trail back to the parking lot. Holy cow!! We did it! I was so tired and so happy. Take two, with our modifications, was successful. We still had several hours of daylight left, if we had needed it.
My Garmin watch tracked our route as being 17.3 miles. Frosty wrote a post detailing the CATT Challenge details and rules. To read it click this link. I hope some of you will try it!