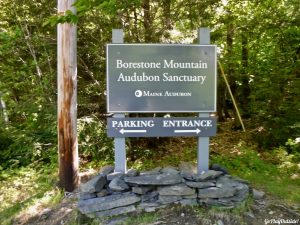 On June 8th, Frosty and I headed up to Borestone Mountain Audubon Sanctuary. We took the Base Trail to where it meets the dirt road. We continued on the road to the Robert T. Moore Visitors Center.
The Visitors Center was open. It's a small building with a few displays inside. Outside, there are a couple picnic tables. It would be a nice spot for a snack or picnic. This area is on the edge of Sunrise Pond and has a great view of Borestone.
This trip I tried out my new fanny pack. It is fairly big, which is what I wanted. It is a cheap reasonably priced one that I found at Walmart. I wanted one that could hold a windbreaker. As we neared the top, the breeze picked up, and I needed that windbreaker!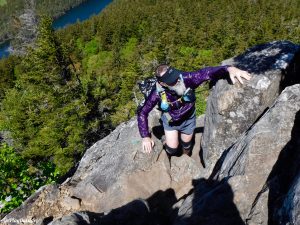 After scrambling up the rocks to get to the West Peak, we stopped and enjoyed the view for awhile. Then we continued to the East Peak. We sat on the ledge for quite awhile. I was enjoying the view. Frosty was trying out our new In Reach Mini.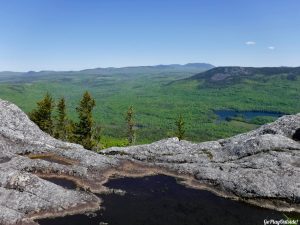 We headed back down. In the past, we taken the road back down and stopped at the Greenwood Pond overlook. This time we took the Base Trail back to the parking lot.
My Garmin watch tracked this as 4 miles round trip.