On May 19th, the Bangor Outdoor Club hiked up Cadillac Mountain in Acadia National Park via the South Ridge Trail. With rain in the forecast, only four of us showed up: Brett, the organizer, Frosty, Christine, and myself.
We lucked out with the weather though. Our trip up was pretty dry. On the descent, a very light rain settled in. The South Ridge Trail is a more gradual climb up Cadillac than some of the other trails, but it is longer.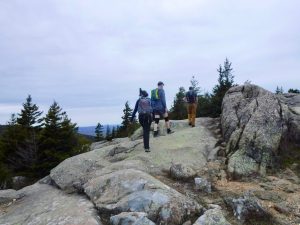 The trail is open as it travels up the ridge line. This affords hikers with wonderful ocean views and views of other Acadia peaks.
There is a scenic little pond called The Featherbed part way up the South Ridge Trail, a few trails cross here. On a nice day, this would be a great spot for a snack break. There is even a bench overlooking the pond.
After The Featherbed, and back out on open ledge, we saw a deer! So cool to see a deer up here above tree line.
There is one steel rung on a rock to climb up on this trail, but I think you could bypass it by popping out onto the road up Cadillac Mountain, which is close by at this point.
We had a snack while on the top of Cadillac, and while the gift shop wasn't open. There were porta potties available.
It was great to get out and enjoy Acadia with fellow hikers. Less than ideal weather, and since it isn't prime tourist season, also meant that the trails weren't crowded.