On Sunday, November 11th, Squirrel and I ran individually in the 5th Moosehorn Ghost Run half marathon.
Participants could also race the half marathon as a 2 or 3 person relay team. There was a youth relay category as well. The race course was entirely in Moosehorn National Wildlife Refuge and organized by Sunrise Athletic Club and The Friends of Moosehorn National Wildlife Refuge. This race was the last in the Downeast Conservation Trail Race Series.
Race day was cold (31 degrees at the start) and sunny, but the issue was the wind. It was so windy! I thought my face would be red after from wind burn, but it wasn't.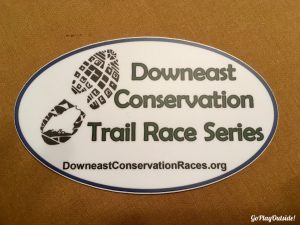 I chose to take advantage of the early start option for slower runners. There were 4 of us who ran in the early start. I was glad this was an option.
This race was a cupless race. There were 2 water stations on the course. Participants needed to bring their own cups or bottles.
There were some great views on this course. I loved all the little ponds. Since it rained yesterday there were puddles on the course, but nothing that couldn't be avoided. This race was on dirt roads, no single track trail running.
Since I am slow, I knew at some point the serious racers would pass me. Well, it happened when I was at the 4.5 mile point on the course. Judson Cake, the overall winner, went past me. I felt like The Flash was passing me. It is a bit mesmerizing to see great runners.
I had one giant stumble. The type where the upper part of your body feels like it is in Superman's flying position and the bottom half feels like a spinning cloud of flailing legs (many more than two) trying to find the ground.
This race started and ended near the Youth conservation Core (YCC) building.  It was a tad longer than a regular half marathon at 13.32 miles. The batons for the relay teams were sections of deer antlers! So cool!
At the finish line, there was music.and a small fire. It was too windy and cold to enjoy being outside when I finished, and I was too tired. I grabbed my fresh clothes from the vehicle and changed.
After the race, there was a potluck lunch in the YCC buildingRace participants were asked to bring a dish to share. Racers were also asked to bring their own plate, bowl, cup, and silverware. There were lots of delicious dishes, apple crisp, baked ziti, chili, chicken noodle soup, etc. Squirrel and I brought brownies and chocolate cookies with salted caramel baking chips.
All finishers received a wooden medal. Awards (certificates) were given to the overall and age group winners for the half marathon. The open category and youth relay winners were given awards as well. The ceremony concluded with awards for the Downeast Conservation Trail Race Series. Awards were given to the age group winners for the series. Finisher medals (a wooden Maine silhouette) were given to all the participants who completed at least 5 of the 6 races. 4 people ran in all 6 races, and 7 runners, including myself, ran in 5 of the races.
There were 42 participants. 41 finished. I wasn't last, but close to it. My time was 2:34:47.3. I was 38th to finish. Squirrel finished 5th overall! He won his age group. He was the only runner, male or female, in the 19 and under category. This was Squirrel's 3rd half marathon. He set a new PR with a time of 1:37:13.0. My Garmin watch reported the elevation gain of this race as 486 feet. I was surprised I thought it was flatter than that. 
When I first started running, I was intimidated by the thought of running a 5K. With the completion of this race, I have now run a dozen half marathons! It was great be in the race with Squirrel. I am inspired by him.