On Sunday, October 28th, Frosty and I ran in the Great Pond Mountain Conservation Trust Wildlands Trail Race. There were two races lengths to choose from, 2 miles and 6.3 miles. Frosty and I ran in the 6.3 mile race.
This race is one leg of the Double Trouble Trail Race Challenge (along with the Frenchman Bay Conservancy Trail Race) and is one of the six races in the Downeast Conservation Trail Race Series.
Sunday morning was misty and the temperature as the race started was 41 degrees. Frosty enjoys running in less than ideal conditions. I'd rather have a little nicer weather. We picked our bibs and were given an orange commemorative, race buff.
The mist continued as the race started. The wind was blowing the mist on my glasses making it hard to see. Annoying! My visor wasn't any help in this situation.
The beginning of this race was basically up, up, up, then up some more. It was intense. According to my Garmin watch, this race had 989 feet of elevation gain. This race had some single track racing and some dirt road running. It was more technical than my race at Hidden Valley Nature Center. There was more single track running. The course had two water stops.
The end of the race was, a long downhill. Mostly on the dirt roads. One section of the downhill was a bit steep. I had to slow down. I felt out of control, like I could become one of those cartoon characters with a spinning blur circle of legs. Although at my slow pace, it probably would have looked more like the ending rotations of the big wheel contestants spin during the showcase showdown on The Price Is Right.
I hurt something in my lower back on the flat, home stretch toward the finish. When my right foot made contact with the ground, a felt a sharp pain that felt like a pop. I actually said ouch out loud. It hurt on the next few footfalls. I slowed down. I thought I might have to walk it in, but it stopped the intense pain. I was able to run to the finish. After finishing, it was just dull pain, stiff, thighs, uncomfortable pain.
I was nearly last to finish. I was glad to meet my goal of finishing the race. I had also challenged myself to try trail racing this fall. It felt good to accomplish my goals.
The post race celebration was great despite the cold temperatures.Once I stopped running, I needed to bundle up. The post race food was yummy! There was Halloween candy, brownies, cookies, popcorn, cider, bananas, chili, and more.
There were random drawings of prizes from the race sponsors. Frosty won a pizza from Pat's Pizza of Bar Harbor.Then the overall and age group awards were given out, The homemade awards had silk, autumn leaves around a sneaker/shoe in the middle. Some of the shoes were 3-D doll shoes, and some were flat wooden sneaker images.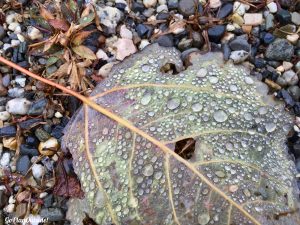 44 people ran in the 6.3 mile race; while 9 people ran in the 2 mile race.