One end of the tent fell down during the night as the jute twine got damp and stretched. Luckily, it was the foot end. It didn't wake us. The bear box was completely full. Many more tenters had come in after we had hit the sack.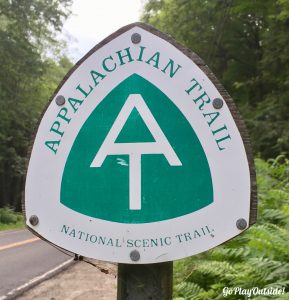 We got up and out early, 5:30. We usually hike for an hour or more before breakfast. We ate breakfast on some hight ledges with a view.
There was a lot of easy walking today. A river walk along the Housatonic River, road walking, field walking. At one point, we had a nice view looking back at Mt. Everett.
We passed a monument marking the site of the last battle of Shays' Rebellion. You can read more about this post-revolutionary war rebellion here.
At a road crossing, we met a couple that were thru hiking. They had been part of the group that was forced into Gatlinburg during spring snow storms. Their grandchildren were joining them on the trail to hike for a few hours.
We had a bar break on a boulder as we headed up East Mountain. In this area, we found the pelt and bones of a small skunk on the ground. I think it is cool to see things like this.
On this day, I dug my second cat hole. The first one, a few days before, had gone very well. I was able to find a great location with easy  to dig soil. This wasn't the case this time! I couldn't find a great location, but the situation was getting desperate. The soil was so full of roots and hard to dig. I was glad that at least had a trowel. The trowel did help with the digging.
Frosty and I had another bar break at the Tom Leonard shelter. Frosty read the register. Peak and Tea Time had stopped at here. Sometime in our last two miles of hiking I lost my bandana, aka sweat rag. Oops!
We got to the Rt. 23 road crossing in Monterey, Massachusetts, outside Great Barrington at 3:00. Frosty and I had left a vehicle at this trailhead.This trailhead is a bit secluded from the road, which was a good thing. We were able to strip and have a wet wipe bath. We had clean clothes in the vehicle. We were so filthy that it took a half hour for us to get presentable (not clean) for public.
After leaving the trailhead, we stopped at a convenience store. I was so excited to get a Dr. Pepper and a snack size bag of chips! We headed to a motel for the night. We showered and got a pizza for supper.
We were heading home to pick up Squirrel, who was going to spend the next week of our section hike with us. We did 16 miles today.