Frosty and I left the Toymakers Cafe and got back on the trail.We saw a couple bunnies near the hydroelectric plant. Then we crossed an iron truss bridge. I was surprised that the bridge date was 2016. When I was a kid, where I grew up, there were many truss bridge. It seems though that whenever one of these old truss bridges needs replacing it gets replaced with another type of bridge. I have a nostalgia for truss bridges.
Soon after, we saw the falls that Great Falls that gives its name. This was an impressive waterfall as the Housatonic rushes over the ledges beneath.
We had our breakfast, Mitten Shakes, at on a hilltop ledge on Mt. Prospect with a nice view. We went off trail about a mile later to hit the stream near the Limestone Spring Shelter to resupply our water. You have to travel a bit to get to the water, Wetauwanchu Brook, and further to get to the shelter. At one time, this shelter was on the trail or at least closer to it before a rerouting of the trail.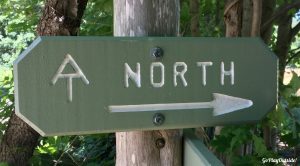 A highlight on this section was a rock formation known as the Giant's Thumb. I wasn't hiking with Frosty at the time or I would've put a person in my photo of the Giant's Thumb to give it scale. The Thumb was quite a bit taller than me.
We had another road walk and passed through the town of Salisbury, CT. The trail doesn't pass any businesses. You have to travel off the trail to visit any of those. We did go by a cemetery where there is a spigot on the cross in the center.. Some hikers low on water fill up there. After leaving the road, we met up with Honeybun again.
We had lunch near a stream. There was a large boulder for us to sit on. Frosty had some Clif Bars. While I had some freeze dried raspberries. Holy cow… those raspberries were tart! Luckily, I had some chocolate chips and Kraft Caramel Bits to add sweetness. We took off our shoes, relaxed, and camelled up on water.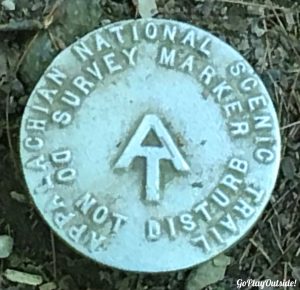 It was too hot for us today. We are wimps about the heat. That is why we have spent two summers in Alaska, and one in Newfoundland. Luckily, at least after the road walk, we were walking in the shade. We went through lots of water today.
We climbed the Lion's Head today. With the heat and climb, I was huffing and puffing. I am glad we didn't meet any other hikers. They probably would've called 9-1-1 thinking I was in the throes of a major asthma attack.
We passed a group of 3 men who were hiking to with fully loaded and then some packs. They appeared to be ready to set up the most awesome camp. One of them had a camping egg holder for a dozen eggs. I thought about turning around and following them to where they were going to set up camp. I'm sure they were going to have some good food!
We went to the Brassie Brook shelter for the night. We had freeze dried Beef Stroganoff. We met Huckleberry Finn, a section hiker, who was taking a gap year before college. He had been exploring out West before hopping on the trail for awhile.
There was also a group of kids and one leader from an outdoor summer camp. They were a bit loud past hiker midnight, but they eventually settled down. We did 12 miles today.