Our day started uphill as we left the Silver Hill Campsite heading north. We had our breakfast, Mitten Shakes, while sitting at a stream. It was a nice view and had a big rock that we could both sit on. Before leaving, we refilled our water.
The trail went through a split rock. It was only a few feet, but it was cool. We had our lunch, pepperoni and cheese wraps, at Pine Brook Shelter. There was a dessert today's meal of dark chocolate covered banana chips. We took off our shoes and relaxed. Frosty resupplied our water while here.
We met a couple heading southbound today. Frosty had met them when he was out by himself earlier in the summer. Frosty was confused because at that time he met them heading southbound near RPH in NY. Frosty asked them if he had met them before. They replied yes and explained how they are spotting themselves. They are out with two vehicles. They keep leapfrogging their journey starting more northerly each time, but hiking southbound.
There was a road walk today and another riverside walk. The river area, again along the Housatonic, was nice with good walking. A small section of this part of the trail, half a mile, is wheelchair accessible.
We spent the night camping in the yard of the Toymakers Cafe in Falls Village, Connecticut. The owners, Ann and Gregory Bidou, live above the cafe and allow hikers to camp in their yard. There was an outlet on their barn that they allowed us to use to recharge our phones and a hose for water.
We cooked up a freeze dried supper of penne with marinara with extra EVOO. We ate on the Toymakers' picnic table in the shade. Frosty adds extra EVOO to most of our suppers for extra calories. Frosty needs extra calories to keep his stamina for hiking up.
We lucked out. Some festival or event had recently happened in town. There were porta potties all over town. There was one right next to the Toymakers' house.
We had called the owners ahead of time to arrange staying in their yard. They said we could. They weren't home when we arrived. We were settled down to sleep for the night when Ann and Gregory got home. Frosty popped out of the tent to say hello and thanks. Ann told us that a bear had been in their yard last night and that skunks regularly visit.
Frosty hung our food bag from a ladder as suggested by Gregory. We didn't see or hear any bears, but I did smell the skunks as they visited the yard. Luckily, the smell travelled on with the skunks.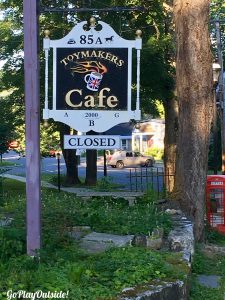 We did 15 miles today. Click the link for a nice article about Toymakers Cafe.