Today we picked up where we left off from our Memorial Day Weekend hike. Last time we went south from 341. This time we headed North. We left our vehicle at our end point and got dropped at 341. We got a late start for our day. We didn't start hiking until 10:30.
There was trail magic going on at the road crossing for long distance hikers. It was very cool, but we didn't partake. We had just started our hike. This was for people who had been hiking for awhile. Although, the workers generously offered it to us. It was sponsored by a local chain of outdoor stores in Connecticut called Denali. This was the most incredible trail magic. It was arranged by a worker for the company who's son, Sublime, is thru hiking the Appalachian Trail and was scheduled to come through that trail head that day.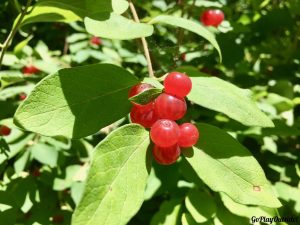 The Denali company had lip balm, hats, trail mix, drinks, snack size chips & cheese curls, veggies & dip, friut, candy bars, and stickers. They also had Darn Tough socks! Thru hikers could get a fresh pair of socks. We met a hiker later in the day that had taken a pair of the Darn Tough socks. He was so excited!
Soon after the viewpoint for Caleb's Peak, we met the man who maintains this section of trail and the Schaghticoke Mountain trail section that we did in May. That was cool. We talked to him about the rattlesnakes on Schaghticoke.
We went through St.John's Ledges. I'm not sure if that's the name of one ledge or the whole area. This part of the trail was rocky as we descended southbound. Some rock climbers were practicing in one spot below the trail.
We ate our lunch, pepperoni and cheese wraps, while sitting next to a stream. We took off our shoes and relaxed. We resupplied water here as well.
The section of trail we did today had a walk along a dirt road and a river walk. During this section, we had miles of flat walking. I loved seeing the Housatonic River. The only annoying part was the eye gnats. They don't bite, but they can definitely drive you batty. Sunglasses can help keep them from flying into your eyes.
We got more water at a spring that someone had installed a pipe into. The pipe made it easy to fill our water bladders. The water was cold and clear.
Frosty can do many more miles than I can. So, I let him know when I was tired and ready to stop. We did 10.1 miles today.
We stayed at the Silver Hill campsite. This was a great camping area. This campsite had a covered picnic pavilion with tables and a bear box. The ground was relatively flat in many spots. Four tents were set up the night we were there. Frosty and I enjoyed the freestanding porch style swing. There was a line already strung between some trees, so we hung our socks and gaiters up for the evening. This campsite also had a seating area with benches. At one time, I think these benches looked out over a view, but the trees have grown up to block any views.
I have to say that I like the privies that I've seen in Connecticut. The design is very open, but still private. The airiness helps control the smell, and they looked cute as well.
A dad with his two kids, out for the weekend, were set up there when we arrived. Three thru hikers stayed at the  campsite as well: Tea Time, Peak, and Honey Bun.
Tea Time and Peak were flip floppers who had started SOBO from Harper's Ferry to Springer. At most shelters, they had only seen one other SOBO name in the registers, our friend Sharkey! Sharkey! headed out on the trail on January first SOBO from Pennsylvania. They were hoping to meet Sharkey! at one point, but we told them he was now off trail.
For supper, we had a freeze dried meal from Good-To-Go of Pad Thai. We only saw small, common animals today: chipmunks, squirrels, snakes, and geese.
Today was a great start to our trip. I was tired, in a good way, and the weather and views were enjoyable.