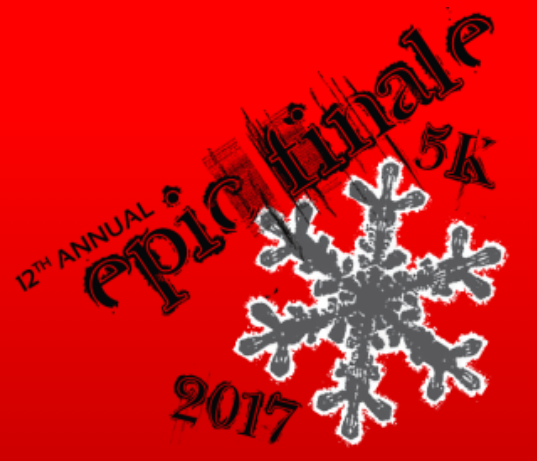 The Epic Finale is a race put on by Epic Sports in Bangor, Maine. The race is held on the last day of each year.  2017 was the 12th year for the race.
I was a bit freaked out by the predicted temperature and wind chill for race day. Since, the distance was 5K, I figured it was doable. I still worried. The morning of the race the weather website I checked listed the temp. at -18 degrees with the wind chill.
I ended up wearing too many layers for the race. I really didn't know what to wear. I knew it was going to be cold. I knew I would warm up running. Frosty thought I was dressed too warmly. He was right. I did know from training runs that even if I was sweating the wool layers would keep me warm in the cold.
There was only one short section where I was cold at all. In this section, the wind was whipping at my head. Of course the exposed skin of my face was cold, but surprisingly, the top of my head was cold. I had worn the Epic Finale race hat. The hat was a typical knit hat with an embroidered race logo on it. I was surprised that the wind blew right through it. Luckily, I had my earband under my hat keeping my ears warm. I hate cold ears.
I would make some changes, if I were to do this race over with the same conditions. I would wear less gear and a different hat. I wrote a detailed list below of what I wore, and what I would try next time.
Now to the actual race! There were 111 racers. A great number for a cold weather race.  The race started on the street in back of Paddy Murphy's. Soon, we were going up the State Street hill. Yes, I admit it. I walked up at least half of this hill. I do walk during races.
There was one water stop on the course. I had no desire to drink or stop in the cold. The course ended close to where it started.  There was a nice down hill going into the finish.
Post race festivities were at the Epic Sports store. They had coffee and soup to warm you back up. I changed out of my sweaty, wet layers in the bathroom. I was planning to stay for the awards ceremony, but I started to get chilled. So we took off.
This was my slowest 5K time. But I did it! I survived the cold. My Garmin said the elevation gain was 140 feet. It seemed like more. That must have been all on the State Street hill!
I wore too much:
Smartwool socks, Asics Gel Women's Gel Contend 3, Danskins Now shorts, Danskins Now leggings, merino wool leggings, Layer 8 wind pants, Danskins Now long sleeve tech shirt. Danskin Now leggings, Stormy Kromer the Ida Outfitter vest, Russel windbreaker, Russell Athletic windbreaker, Russell Athletic zip neck long sleeve tech shirt, earband, Buff merino neckwear, THICK mittens, Epic Finale knit race hat, my favorite Scunci visor
I'd try this next time:
The Asics, the wool socks, wool leggings, the shorts, wool high neck shirt, wool vest, Buff, visor, a wind proof hat, and my LL Bean Packaway mittens, or possibly my Apana running mittens. I love my running mittens, but I don't know if they would have been warm enough in these conditions. I am not sure if I would have needed my windbreaker to give my warms an extra layer.
— Magoo