We stopped at the High Point State Park  office. There is a store and public restroom here. The store has souvenirs, pop, and some snack food and bars. While here, we filled up our water bottles, disposed of trash, and snacked on some chips. Frosty was having some sinus issues and had to take some Benadryl.
Little Bird was leaving as we arrived. Saunter and Dave showed up as we were leaving.
When we were leaving the grounds, one of the ladies from the store ran out yelling to us. Olive Oyl had called to say a couple left something tent stakes behind at Rutherford shelter area. It wasn't us, so probably Praise Team.
There is a viewing platform on the AT that looks over to the High Point Monument. The monument itself, is reached via an off trail blue blaze.
We went up into the viewing platform there were some good views.
I was going to go up to the monument, but missed the trail. In retrospect, I think I know where it was. We had come to a trail juncture, but I didn't see any signs about High Point. I thought, surely there will be a big sign that indicates the trail to the obelisk. If there were any signs there, I missed them.
We went into the High Point Shelter for a snack break and water resupply. This was a nice shelter with a picturesque stream as you approach.
Interestingly, the sporadically rocky trail that we had encountered in New Jersey peters out significantly after the High Point Shelter.
We stopped at the not so "Secret Shelter." A better name would be the private shelter. This shelter is on private land and was built by a former thru hiker who bought land near the trail to build this hiker haven.
There's a cabin with heat, outlets, and a fan. Also, there's a water pump and privy. We filled up our water bottles.
I think the main attraction at the Secret Shelter though is Jake. Jake's a donkey. He was very friendly, but definitely in search of a hand out. I think he gets fed regularly by hikers.
Dave was relaxing on the porch of the secret shelter when we arrived. He had been taking some selfies with Jake to send to his wife.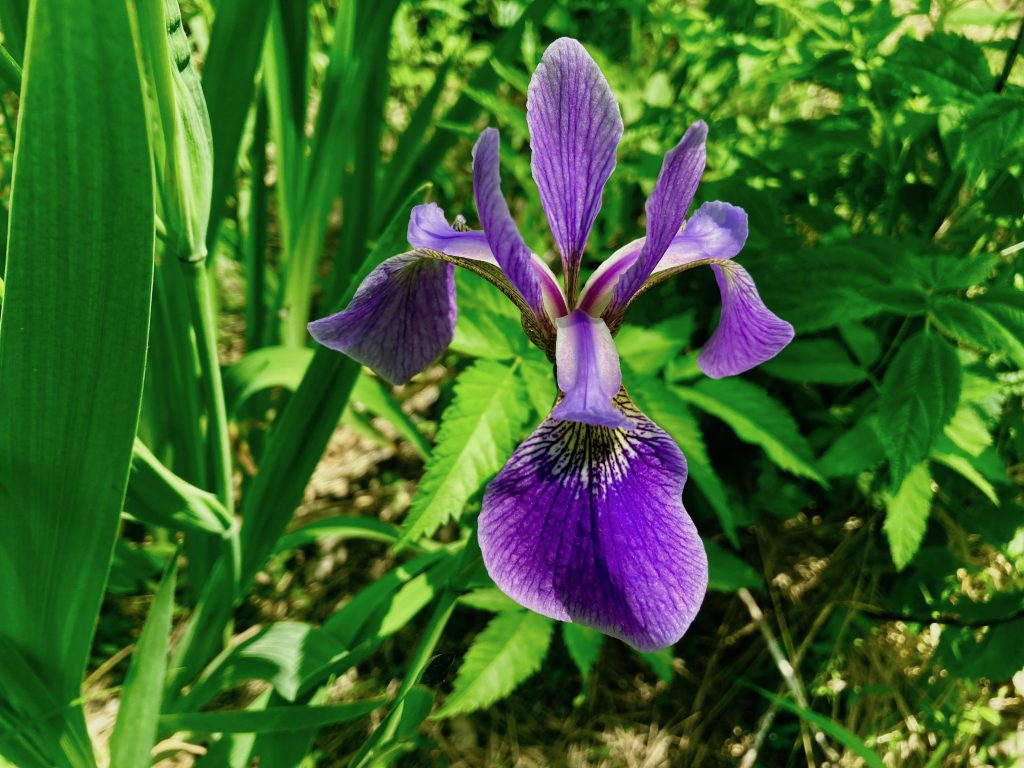 We saw lots of flowers and millipedes today. The trail was very mellow after the High Point area. We passed through many fields and small ponds.
It was a hot and sunny day. We were out of the green tunnel for spurts today, so that didn't help. We also had a fairly long road walk. We broke out our umbrellas to shield us from the sun.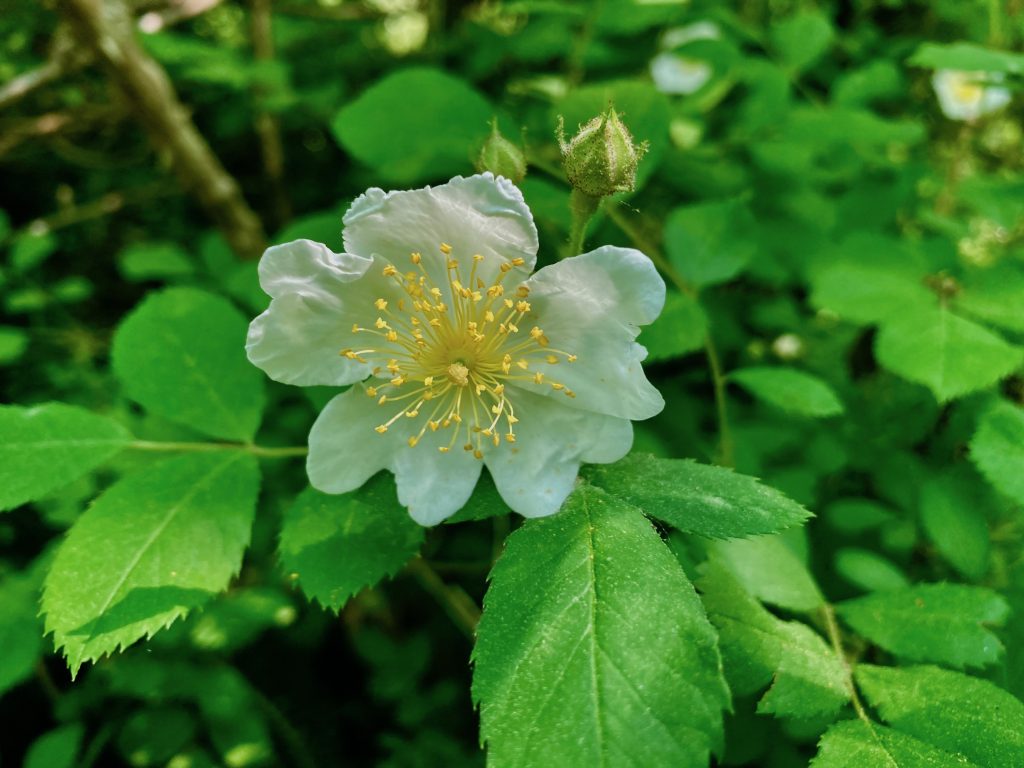 I was thrilled to find trail magic at a road crossing this afternoon. Some former thru hikers had left a cooler of Gatorade in ice and a bag for disposal.
We went through the Wallkill River National Wildlife Refuge. The trail went on a dirt road atop dikes bordering water storage ponds. We walked nearly all the way around this preserve.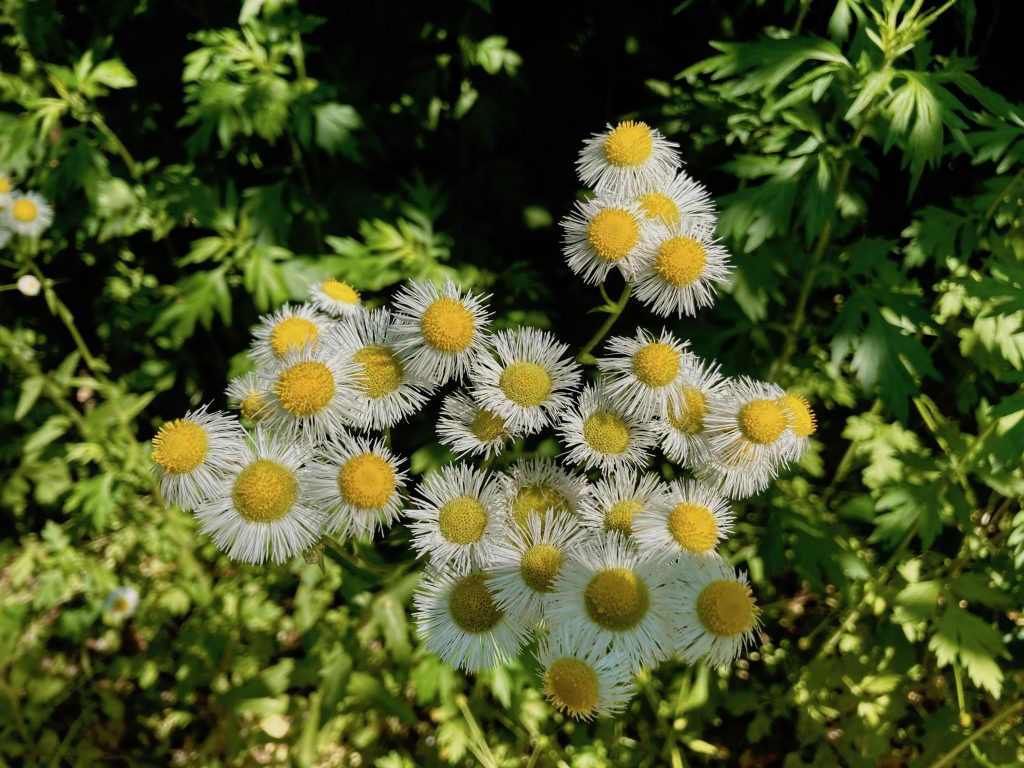 Frosty saw lots of birds here in 2018. Many of the shallow water pools appeared to have been drained (naturally or by man), so we didn't see too many birds. We did spot one blue heron and a couple red-wing black birds.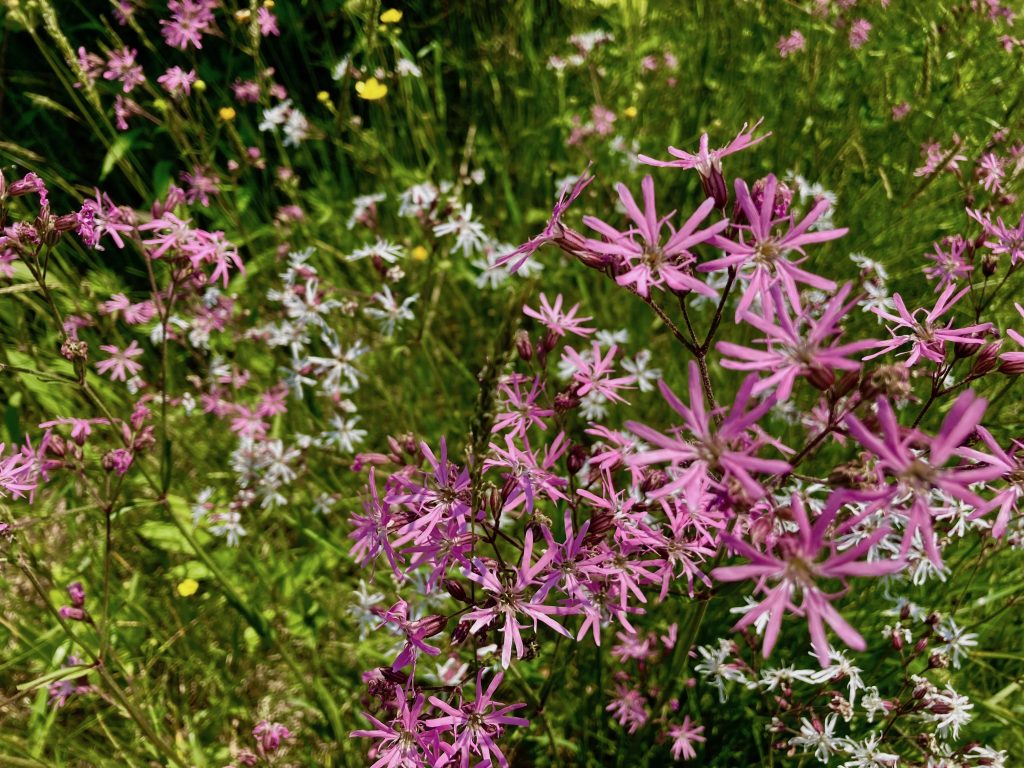 Dave and other hikers saw a black bear as they traveled through here. We didn't. I really wanted to see a bear.
We headed up Pochuck Mountain. We were planning to stay at the Pochuck Shelter. Just after starting up the trail, there is an abandoned house that's owned by the National Park Service.
The house was the water source for the shelter, so we made sure to stop and gather water for the night and to start tomorrow with. This house is four tenths of a mile before the shelter as you travel northbound, so you don't want to miss it.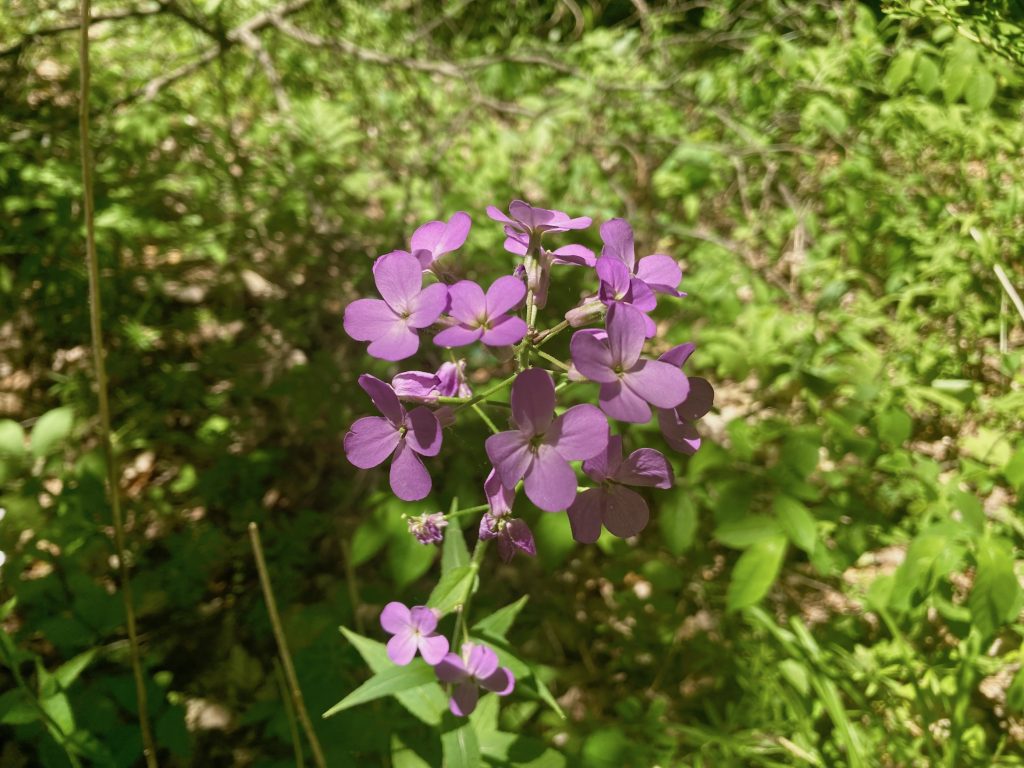 I think snakes have taken over the house. There were shed snake skins all around, including one hanging like Christmas garland from the rain gutter.
When we arrived at the Pochuck Shelter area, many tents were already set up, and people kept coming! There were a bunch of floppers and sectioners here as well as about 5 thru hikers. This shelter has a bear box which ended up being quite full.
The picnic table and nearby logs. were crowded at supper time. Frosty and I had our pasta alfredo with veggies sitting on the log. I do love and appreciate all the shelters, outside of Maine, with picnic tables!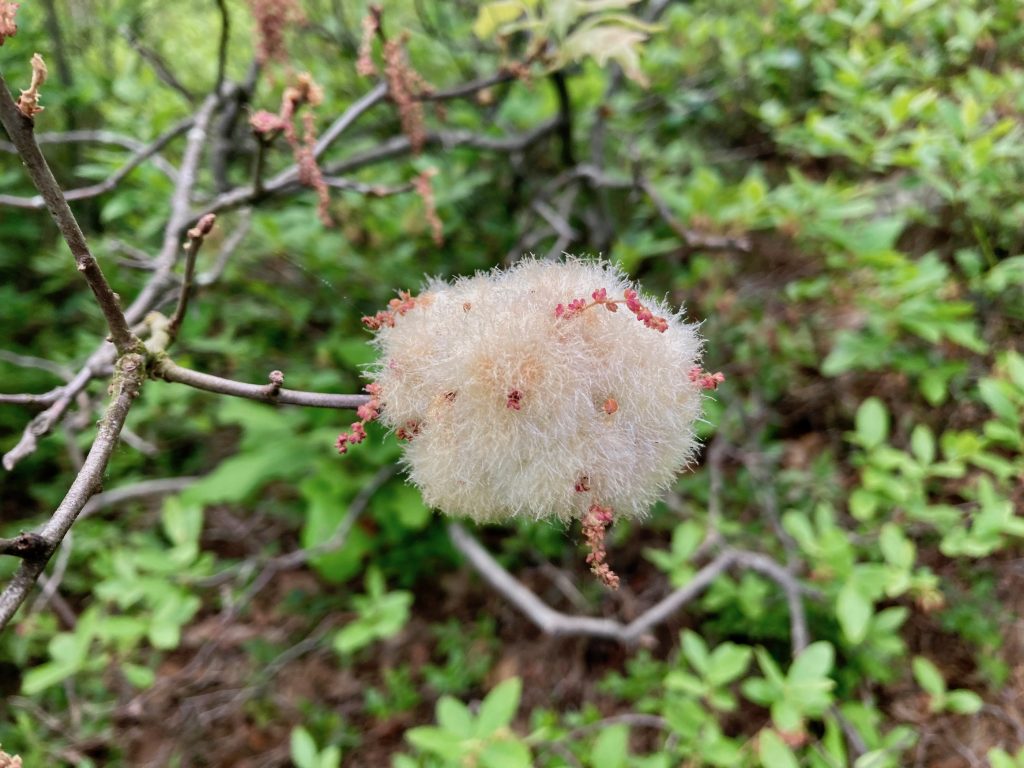 Three others spent the night in the shelter with us. A 17 year old thru hiker, Fingies, was there when we arrived. She had done a short day hiking out from Unionville. Little Bug decided not to tent and joined us in the shelter. The other hiker was a retired air traffic controller who had also worked for NASA. He was thru hiking. He started after his retirement last fall and was on track for finishing "within 12 months" as required to be a formal thru hiker.
We hiked 17 trail miles today.