When I first started running, a 5K (3.1 miles) was intimidating. I couldn't fathom running a half marathon (13.1 miles), but I did have that distance as my goal. I had no idea, when or if, that would happen.
I kept increasing my distance in races and in training. Finally, during the summer, I signed up for Crow Athletic's Run MDI half marathon on Mount Desert Island. Registration for the half had  been closed, but Crow re-opened it for a few days. I felt lucky to get in, but nervous about it. I thought this would be my first half marathon. I was nervous. This race was bigger than any I had done before and had some logistics to deal with. It doesn't take much to throw me in new situations.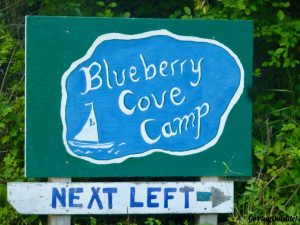 Later, I found information online about the Blueberry Cove Half Marathon. It was a smaller race. It looked like a low key, friendly race. I thought it might be a good first race, and it was! The Blueberry Cove race was at the end of August, about a month and a half before Run MDI – which ended up being my third half marathon.
The Blueberry Cove Half Marathon race benefits the University of Maine Cooperative Extension 4-H Camp & Learning Centers at Tanglewood & Blueberry Cove. The only distance in this race is the half marathon.
I liked the idea of having my first half marathon be a small race. I was nervous. The race was less than a month away, but I believed I could do it. I was ready. Frosty encouraged me to go for it. He had no doubt that I could do it. I pulled the trigger and registered for the race. I did worry that some odd thing would happen to prevent me from finishing.
The race is held at the Blueberry Cove Camp in Tenants Harbor. This is a beautiful course that traverses the St. George peninsula. There are several ocean views along the route and one lighthouse. The course goes out to the Marshall Point Lighthouse in Port Clyde.This lighthouse is notable for being featured in the movie Forrest Gump. The Marshall Point Lighthouse has a small museum in the former light keeper's house.
This race attracts vacation runners. There were runners from Florida to California and all places in between. This is a small race, in 2017 less than 200 runners participated. Over half were from out of state.
Frosty had decided to do the race with me. He was a runner in high school, but had not run lately. Frosty started training, got injured, and stopped training. Frosty's plan was to run and walk to prevent reinjuring himself.
On the afternoon before race day, we checked in and picked up our bibs. The fabric bibs appeared to be made by kids from the camp.
The race has a small number of cabins available. You need to register early to get a cabin. Racers can camp on the grounds as well. Both of these options were add-on fees when registering. Frosty and I decided to camp and brought our backpacking tent.
We did some sightseeing in the area and drove the course to check it out. Familiarizing myself with the course helped me feel more confident. We visited the lighthouse and museum. Then Frosty and I went out to eat. Racers have the option of signing up for a pre-race supper for an additional fee.
I slept pretty well given my nerves. I love our roomy 3 person backpacking tent for the two of us. I woke up early to have some food and drink before the race and allow time for it to settle. I was excited and nervous for my first half marathon. I felt ready, and I wanted to prove to myself that I could do it.
The race started at 7:30 in the morning. I enjoyed running this race! I talked with other runners as we ran and checked out the ocean views. The mile markers for the course were lobster buoys. I was excited to see each increasing number. For me, the lighthouse was a special point on the race. I couldn't believe it! I was doing it!
I walked the hills and ran the rest, unless I was drinking water from an aid station. There were water stations every two miles on the course. I also carried two small bottle with Power Ade in a running belt.
When I passed mile marker 12, I felt good. I still had energy, so I kicked my speed up a notch. I was confident at this point that I would finish. The race ends on a slight uphill. I ran strong to the finish line. I DID IT! I felt so good! I was tired in a good way, but not exhausted. I felt like a could have run a mile or two more without any problems.
I had accomplished my goals! My first goal was to finish. My second goal was to do it in under 3 hours. I was hoping for 2 hours and 45 minutes. I was afraid to hope for that, so I kept my goal at under three hours. I estimated a time from my training runs of 2 hours 50 minutes to finish. I was not sure how hills and being in a race would affect my run.
I finished in 2:19:43! I couldn't believe it! Holy cow! I was so excited to get the finishers medal made by potter, Peter Jones of Mountain Street Pottery in Belfast. Then I waited at the finish line for Frosty. He finished just under two and a half hours!
The Blueberry Cove Half Marathon culminated with a buffet brunch for the runners. The line was long. It was hard waiting because I was starving. There was a variety of food available.. Among other things, I had blueberry pie! Yum!
I was so happy to have Blueberry Cove be my first half marathon. It was a great experience. I loved the race so much that I signed up for the 2018 race the day after registration opened.
Gear:
Frosty:
Tech shirt, shorts, Brooks Ravenna 8 running shoes, two bottle running belt, Buff, Garmin watch, and Aloha Eyewear Stone Creek MX1 Men's Wraparound Bi-focal Sunglasses. 
Magoo:
Danskins Now 9″ inseam shorts, Avia mesh inset shirt (I wish this shirt was still made), Asics Gel Contend 3 running shoes, Garmin watch, Costa prescription sunglasses, two bottle running belt, my favorite Scunci visor, Danskins Now Sports Bra, and Smartwool socks
Camping:
Tarptent Rainshadow 2 (3 person tent) This particular tent is no longer available, but an updated version is coming.