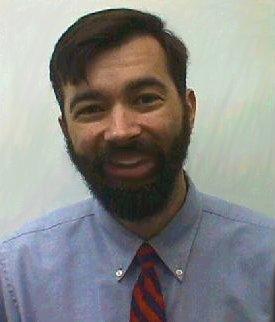 Robert Pottle grew up in the small community of Eastport, Maine (the eastern most city in the United States) with his parents and one brother. His mother, a school teacher, imparted in him a love of learning and books. His father, a contractor, shared a keen sense of humor and word play. While Robert did enjoy writing in school, he spent much of his time working at the high school's radio and television stations, WSHD.
After high school, Robert attended Ithaca College to study broadcast production. Already, he had an interest in writing for children and worked for the college's television program Kid's Korner.
After a couple of years at Ithaca College, Robert decided he wanted to work more directly with children. He transferred to the University of Maine at Farmington to study elementary education and writing. While at UMF, Robert was very active in the Outing Club. During the summer of 1992, he spent three months hiking on the Appalachian Trail.
After graduating, Robert was hired as a first grade teacher at Cave Hill School in Eastbrook, Maine. While at Cave Hill School, he met his wife, Diane, who taught kindergarten there.
Robert began seriously writing for children on a summer trip to Alaska. Since he was driving from Maine to Alaska, he had a lot of time to think. Robert started the web site Giggle, Giggle, Snicker, Laugh! in May of 2000. The site quickly became very popular and is currently the third most popular web site of humorous poetry for children. Robert is also maintains several other popular poetry web sites, lolpoetry.com, gigglepoets.com, moxieday.com, bluelobsterpress.com, and topscrapbookideas.com
In January of 2001, Robert started Blue Lobster Press, so that the fans of Giggle, Giggle, Snicker, Laugh! could enjoy his funny poems in book format. Robert's first book, MAINE: The Way Life Is, was so popular it went into its second printing only four months after it came out. During the summer of 2001, Robert started performing his poetry at schools, conferences, and libraries. Robert has performed at schools and conferences throughout Maine and across the United States.
Robert has five books of his own poetry published including the wildly popular, I'm Allergic to School! which is published by Meadowbrook Press and distributed by Simon and Schuster. His poems have also appeared many of today's most popular humorous poetry anthologies such as My Teacher's in Detention and Dinner with Dracula.
Robert currently lives in Levant, Maine with his wife and two sons.
Here I am in Kapuskasing! Why am I there? I'm looking for Gah-Ning of course.