Sunday, September 30th, Hidden Valley Nature Center, Jefferson, Maine
The start time for the race was 10:00. Bib pick up started at 8:30. This race had two distances that runners could choose from 5.5 miles and a half marathon. I signed up for the 5.5 mile race.
I got nervous on the way to the Hidden Valley Nature Center. I was worried that I had bitten off more than I could chew. Doubts bubbled to the surface. The website described the trail as a "challenging racecourse," and asked, "Do you enjoy the challenge of highly varied terrain, where slippery roots or loose rocks demand your concentration and sharpen your focus?" And the race email said, "The course is a rugged one, with lots of roots, rocks, soft spots, twists and turns." Would the terrain be too challenging for me to run? Would I be tripping over roots and rocks? Could I run on a real trail? 
I put my fears to bed, and moved on. I focused on the positive. I knew I would be able to finish 5.5 miles even if I had to walk. In August, I had set a goal for myself of running a trail race. I was at peace with the possibility of being last. I was all about meeting my trail race goal. I would run when I could and walk when I needed to.
After walking in to the race site from the roadside parking area, I immediately got in line for the porta potty. Pre-race bathroom lines are the worst. Fun, upbeat music was playing from wireless speakers. I started talking to some of the other runners. I met a couple nice women. One from Newport and one from Randolph.
The half marathoners and 5.5 milers start together and share the course. The half marathoners just keep going after the 5.5 milers finish.
Most of the 5.5 mile course, over 5 miles, was double track trail. This part of the trail was actually on old or rough roads. There were rocks, grass, leaf litter, sticks, etc. to pay attention to, but this wasn't nearly as technical as I thought it would be. I did stub my toe on a stick which HURT, but not long luckily.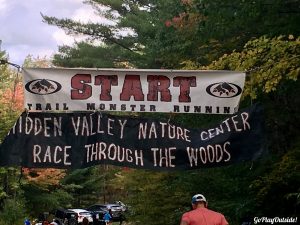 One section, less than a half mile long, was single track and technical, at least for me. It started just after the mile 5 marker. This section was like a mountain hiking trail without the elevation. It did have views of a small pond. I had two spectacular stumbles on this section. I tripped, but didn't fall down. I felt like my upper body was stretched like Superman flying. The second time I tripped my landing foot came down in the mud. This made me slide as well. I was lucky not to go down.
I felt strong at the end. As runners crossed the finish line, they tore the bottom section of their bibs off. These bib strips were placed on a finish place board. There wasn't a time clock at the finish, so I wasn't sure of my exact time. I did have my run watch, so I had an idea. I was a bit impatient after the race waiting for the results to post, so I could find out my exact time.
One part of the course went through a section of road covered with wood chips. The wood chips felt so good to run on! The course had many small ups and downs along the way. It was well marked with arrow signs at trail intersections. If you happened to take a wrong turn, Mr. T would let you know!
I was happy with my run and felt good. I was so pleased to have met my goal. I did it!
There was an obstacle race for kids held while racers were out on the course. Some moms were talking before the race about how much their children enjoyed the obstacle race last year.
After finishing, I enjoyed a few cups of apple cider. Yum! Post-race snacks also included Oreos, Chips Ahoy cookies, orange slices, and bananas. You could also purchase post-race treats. Steelhouse Oven had wood fired pizzas, and Sheepscot Brewing was selling beer.
The overall race winners got pottery mugs. Age group winners received pies donated by volunteers.
For an additional fee, you could purchase a race shirt. I did not get a race shirt, but I did like the slogan used on the shirt, "May the forest be with you."